Ahead of the Great Re-Opening
Exploring ways that SMBs can become more resilient
SMBs are the engine of the economy. It's not hard to argue that this is true. According to the US Small Business Administration, the US has 29m SMBs that employ 57m people (about half of the total workforce). These businesses include hair salons, restaurants, independent retailers, and many other types. Given how important SMBs are to the economy, we've made it a priority at Index Ventures to find and invest in technology companies that support these businesses. This has led us to back some of our most promising companies, including Boulevard, Deliveroo, Etsy, Patreon, Pilot, ServiceTitan, and ShopMonkey.
Unfortunately, over the past three months, a majority of SMBs have temporarily closed their doors. Who could have imagined a scenario where consumers would be prevented from leaving their homes? We certainly couldn't; a pandemic crisis like COVID-19 wasn't discussed in a single one of our investment memos. Like us, many SMB owners were simply caught by surprise.
The outlook is starting to turn more positive, as store data from Homebase shows. Governments are starting to give businesses the green light to re-open and customers are emerging from their homes. For SMB owners, this is relieving news, as many would likely be forced to close their doors for good if the shutdowns were to carry on for several more months (great data about this can be accessed here, courtesy of the team at B Capital).
The short-term focus for SMBs is clear; survive. However, as customers start to trickle back into stores, a more important question needs to take priority - "How can we make sure we never have to experience this level of pain again?"
Build a Digital Revenue Stream
The big shortcoming for most small businesses is that their business is predicated on someone walking into their store. When foot traffic slows due to bad weather, traffic, or more rarely, a public health crisis, revenue disappears and the business suffers. 
Jon Canarick, a Partner at North Castle Partners which owns a number of fitness businesses including Barry's Bootcamp, argues that the COVID-19 crisis is a catalyst for all retail-based businesses to think about how they can enable an omni-channel business model. "Despite consumers not being able to visit our establishments, the relationship between our fitness brands and their consumers still persists. We're now exploring ways to offer fitness services digitally, including live-streaming classes, to continue to serve our consumers in their homes." 
A digital revenue stream can take many forms. Retail stores and restaurants can offer online ordering, curbside pickup, and delivery as Home Depot and Domino's have done for many years. Fitness chains can offer equipment rental, stream content online, and create groups on social platforms to foster community and accountability. Veterinary clinics can leverage tele-services to advise their customers or can adopt a model of serving their customers in-home, as Modern Animal is doing in Los Angeles. Bars can enable alcohol delivery and similarly play a larger role in bringing their local community together online. 
Regardless of the specific business model, it is our view that this crisis will force all small business owners to permanently adopt digital methods to sell their products or services and to engage with their customers. Those that make this transition will find themselves more insulated from future shocks. In fact, they may discover that these new revenue streams can substantially enhance the viability of their businesses in good times and in bad. Those that don't, will see their customer relationships weaken and will become more likely to close their doors permanently.
Maximize Margins
The fundamental challenge for many SMBs is that their margins are low. These businesses need to pay rent and salaries and suppliers just to keep their doors open. Then, they need to attract customers and price their offerings in a way that allows them to make profits through their transaction. Many business owners are happy when profit margins are 10% but this can often be much lower if positive at all. 
Benjamin Mohapi, founder of a top-grossing salon chain called Benjamin Salon, believes strongly in finding ways to make his business more profitable. As he explained to me, "No-shows were a real problem for our business before. I've now switched to a platform [Boulevard] that allows me to charge the customer at the time of booking and the number of no-shows has plummeted. Not only do I guarantee that my stylist will be busy before scheduling their hours, but I also capture revenue in advance which helps my cash flow and ultimately allows for business growth."
Benjamin Salon isn't the only example of a business that actively tries to increase profitability. Barry's Bootcamp, the popular fitness studio chain, similarly charges customers before they walk in. Alinea, the famous Chicago-based restaurant, uses dynamic pricing to make sure their restaurant is always full. Starbucks, the ubiquitous coffee chain, gets many of its customers to pre-load money into their app in exchange for rewards. Clear, the "fastpass" business at airports, charges their customers an annual subscription fee for the privilege of being able to skip the regular line. SMBs should identify which strategies are right for their given business and push to implement them.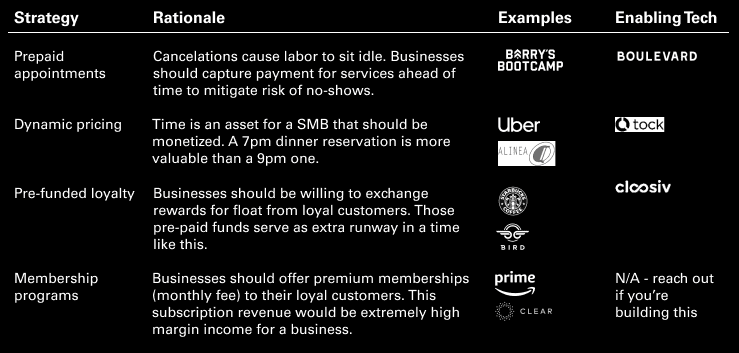 Unlock Cost Savings Via Data
SMBs often face another problem; costs can be very challenging to plan. Over dinner one night, Eugene Remm, founder of top-grossing restaurant group Catch Hospitality, explained, "If a sudden storm comes in one day and you don't respond quickly, you'll find yourself in a situation where your restaurant is empty, your staff is sitting around, and your food supplies are perishing. It's nights like these that cause restaurants to go out of business." 
These situations are difficult to deal with, especially if the business manager doesn't have access to the right data to make the right decisions. Data and software should be used to optimize decisions like how many staff members to schedule on a given night. McDonald's, for instance, accomplishes this through a scheduling software product called Altametrics. Kroger similarly de-risks its produce purchasing decisions by partnering with ShelfEngine, a company that leverages point-of-sale data and other data sources to forecast the optimal amount of each product to keep in inventory. SMBs should actively look for technology partners to help them accomplish the same.

Minimize Fixed Costs
Small businesses incur fixed costs, especially rent, that seemingly can't be avoided in a demand shock like this one caused by COVID-19. However, there is precedent that this is starting to change. Nico Bing, the co-founder of our portfolio company Anine Bing, often says to me, "I hate risk. To me, there is no bigger risk than signing an expensive lease. The only way that I'll open a store is if I can find a way to do so that doesn't tie up my cash." Nico has pioneered a real estate strategy where he lets landlords share in the profit generated by his stores in exchange for flexible lease terms with low fixed rent obligations. His strategy has scaled to high streets in Paris, London, New York City, and multiple other cities.
There are other emerging ways to shrink fixed or sunk costs. Walmart is notorious for getting very favorable payment terms from vendors. Their "days payable outstanding" is ~45, meaning they are able to pay vendors 45 days after receiving the inventory that they purchased from the vendor. This often means that they are able to sell their inventory before they have to pay for it. SMBs are now able to do the same with the help of an innovative marketplace called Faire, which uses data to predict and underwrite which products would sell well within SMB retailers. Whether it's rent, inventory, or other costs, SMBs should look for any opportunity to shift costs from fixed to variable.
One additional area of cost savings that we're spending a lot of time learning about is automation. Historically, software has served as a tool to recommend what action should be performed, but has still required a human to execute the action. Bookkeeping is a great example. Quickbooks has made accounting much easier to understand for business owners, but these owners still need to spend hours each week inputting data into the system. Going forward, we believe software can automate the process entirely. In the case of bookkeeping, our portfolio company, Pilot, has built technology that automatically ingests revenue and cost data from various systems and creates the necessary journal entries. Down the road, automation may not only impact small expense lines for business owners like "accounting services" but also major ones like "store labor." Amazon Go, the chain of automated convenience stores being built by Amazon, serves as a peek into this future.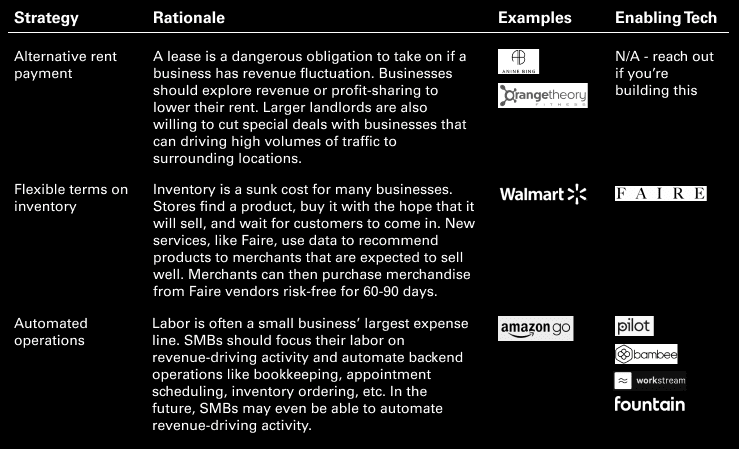 Looking Forward
In many ways, there has never been a better time to be both a SMB owner or a technology vendor to SMBs. SMB owners today are entering an environment where competition will be reduced and where shifting consumer expectations serve as an opportunity.
SMB technology vendors, meanwhile, are entering an environment where they'll go from being seen as "expenses" by business owners to critical partners needed to enable a resilient business.
Like many, we're eager to return to our local restaurants, salons, and other businesses. We also can't wait to see how our interactions with these businesses will be transformed. If you're building technology along these lines, please reach out - we'd love to meet you.
Lastly, if you're interested in hearing additional perspectives on this topic, please consider tuning into "The Future of SMB Retail", a live discussion that we will be hosting with the founders of ChowNow and Boulevard on Thursday, July 9th.
Thank You
Published — June 10, 2020