BIT ODD comes out of stealth and raises €5m Seed round to build games filled with wonder, weirdness and delight
BIT ODD, a gaming company based in Finland, founded by some of the lead creatives behind Supercell's hit games Clash of Clans and Clash Royale has raised €5m in a round led by Index Ventures. Index has a long track record of backing paradigm-shifting gaming businesses, including Supercell, King, Roblox and Dream Games. BIT ODD is also welcoming two experienced gaming operators: Eric Seufert, who is investing via his Heracles Capital fund, and Stephane Kurgan who joins as an angel investor.
BIT ODD is bringing back a sense of wonder and weirdness to gaming, qualities that they feel has been lost in the 'gold rush' of mobile games in recent years. BIT ODD are striving to create engaging titles 'not based on data but on feeling, on what stirs the soul, on visiting uncharted waters, on the ideas and artisanal touches and magical moments that make up a rich and unique player experience' as the CEO and co-founder Lasse Louhento sets out in a blog that you can read below.
'BIT ODD have assembled a first-class team and possess a clear vision that sets them apart from the pack,' says Sofia Dolfe, the investor at Index who led the round. 'Their sense of quirkiness, fun and creativity taps into something that's fallen out of focus in gaming. Along with their track record of making genre-defining, break-out hits, we believe their first release will be something extraordinary.'
Along with Louhento – formerly the Game Lead and Art Director of Clash of Clans at Supercell – BIT ODD was co-founded by Jani Lintunen, a Clash universe game developer and artist, and Taneli Oksama, Clash lead artist. The three of them worked together for over 6 years at Supercell on the Clash titles – both of which are still in the top 10 grossing on US iOS and have millions of daily active users.
Sailing in ODD waters
By Lasse Louhento, co-founder of BIT ODD
There's a moment in Legend of Zelda: Ocarina of Time, the iconic Nintendo 64 game, that has always stayed with me. Link, the elfin main character, is roaming across the Kingdom of Hyrule. At some point, he hears a sweet, ghostly voice. If you follow it, it becomes louder. Eventually you find a female character, Malon, who teaches you a song to help you summon your horse.
I've had many such encounters in my career as a gamer. Another was when I first played Super Metroid on the Super Nintendo, and realized that the main character, Samus, could learn how to do a wall jump from a group of fuzzy green aliens. Those moments of wonder, of weirdness and delight, are the essence of what gaming at its best should be about. Or so we believe at BIT ODD.
Sometimes people ask me why I'm still making games, thirty years after I started. Usually people of my vintage age out of the grassroots design work, but I can't seem to let it go. I was first seduced by the power of gaming by my classmate Mikko, who was the proud owner of an 8-bit Commodore VIC-20. I was mesmerized. My father, a plumber raising me as a single parent, couldn't afford to buy me one – so I set about working and saving, until I had enough money to buy my own machine in 1983. It was my portal to another realm. In our 3rd grade yearbook, while the other boys said they wanted to be policemen and firemen, I wrote that I wanted to be a 'repairman for videogames'.
In some ways, that's what I still am. I still have my original Commodore keyboard in BIT ODD's office, as a reminder of what brought me here. The truth is that, despite being part of the incredible creative team at Supercell behind the juggernauts that became Clash of Clans and Clash Royale, I feel like I still have a lot to learn. But I'm just obsessive, and so is the whole team at BIT ODD. We do it because we love it, and we want to get better at it.
Game design should be about making a leap of faith – on what stirs the soul, on visiting uncharted waters, on the ideas and artisanal touches and magical moments that make up a rich and unique player experience.
So what does all this mean for the kind of company we're building, and what sets us apart from the pack? We started BIT ODD because we felt something was amiss in the world of gaming. Not because there isn't phenomenal talent and amazing titles out there – there are. But the huge boom in mobile gaming has produced something of a gold rush. It's fuelled a kind of Wild West,'finance-first' thinking, where developers fixate on what the competition is doing, on analytics, on execution, on playing it safe. Our team at BIT ODD is, well, a bit odd in believing that game design should be about making a leap of faith – not based on data but on feeling, on what stirs the soul, on visiting uncharted waters, on the ideas and artisanal touches and magical moments that make up a rich and unique player experience.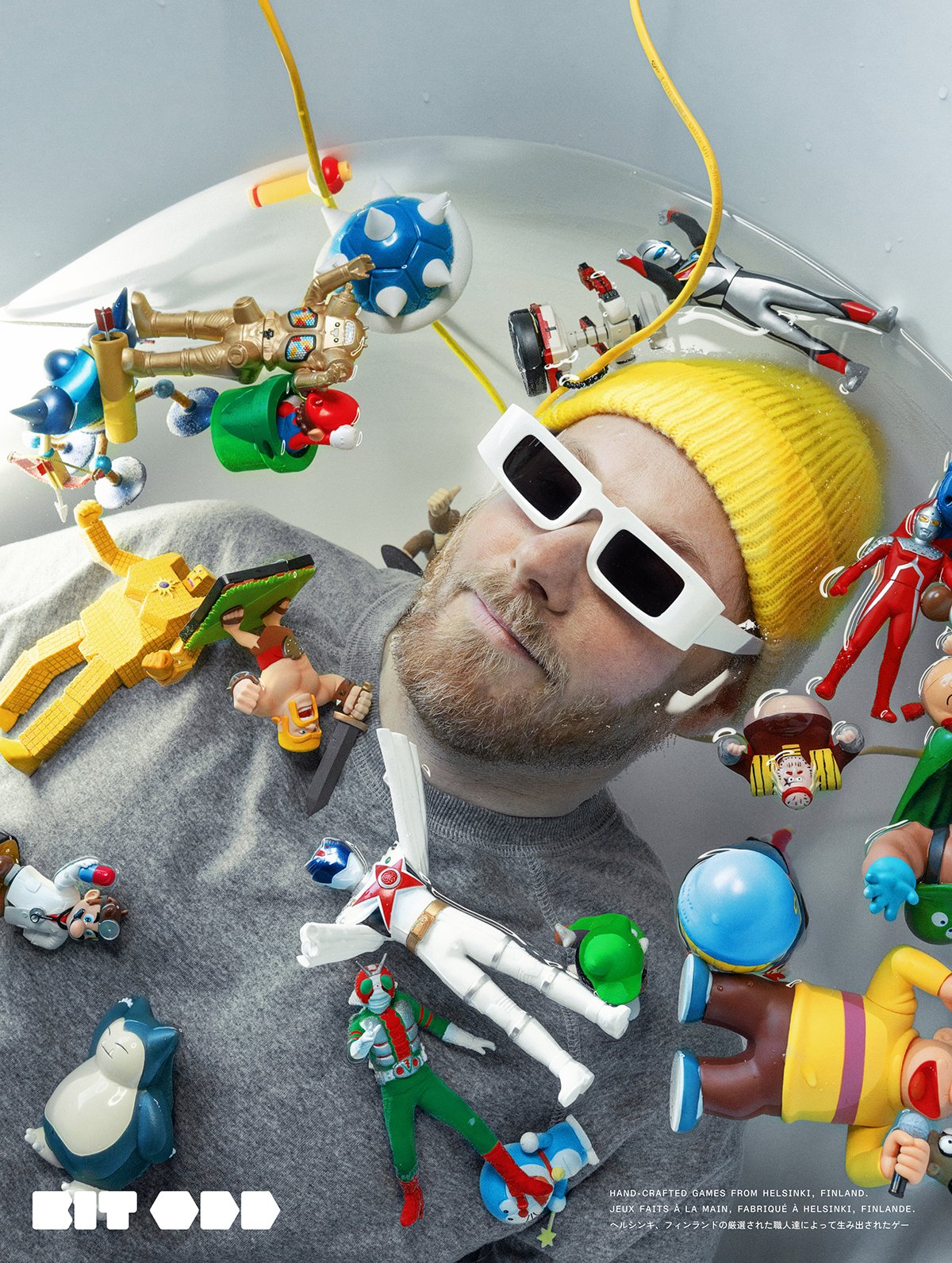 We're partnering in this mission with our friends at Index Ventures, a venture capital firm with a long tradition of backing innovative gaming businesses. We're also welcoming two experienced gaming operators, Stephane Kurgan and ​​Eric Seufert, who are joining us as angel investors. Like the incredible creators we've assembled in BIT ODD's office in Helsinki, all of our investors share our vision of hand-crafting games from the ground up. We believe our team combines the power of the youth with the wisdom of the dinosaurs: we bring together ex-Supercellians along with a new cohort of fresh designers who inject new perspectives and ideas into the process. We're all geeks and weirdos, for sure, but that generational dynamic and balance has been an incredible source of energy so far.
It's harder to tell you than to show you what we mean of course. What we're doing should become clearer when BIT ODD's first game is released. We can't give everything away, but we can say that we'll be releasing something in which you control a character inside a world imbued with a kind of campy, soft-horror, 1980s mood and aesthetic. Think the dreamscapes of John Carpenter, David Bowie, Joy Division. At the same time, the game will be immersive, and with nuanced, collaborative multiplayer dynamics that are typically associated with titles involving a console and controllers.
Swimming upstream from the pack isn't easy. It takes time. And we don't pretend making games isn't a business – it is. It's just that we think, paradoxically, that financial gain is self-undermining when it becomes the main purpose of game design. Instead, monetary reward is more likely when it arises as a consequence of caring about something else more passionately and primarily: about making an extraordinary piece of art that is a pleasure to play.
BIT ODD are creators and artisans who long to do things differently. The most beautiful seas are yet to be sailed – get in touch if you think you have what it takes to join the crew!
Published — June 28, 2022