BrightGo Raises $3M to Digitally Transform America's Fifth Largest Job Sector: Janitorial Services
QUICK TAKE
BrightGo has raised $3 million in seed funding, co-led by Index Ventures to bring Silicon Valley-grade software to janitorial services, an industry that has largely been ignored by tech until now.
Janitorial services is the fifth largest job category in the US, yet companies do not currently have an effective solution to manage operations and teams.
This is placing contracts at risk, delaying payments to workers, increasing overheads and harming companies' ability to scale.
Launched by two Meta and Asana veterans, BrightGo is working to solve this through an intuitive platform and mobile app integration that makes scheduling, employee management, and communication simple.
INDEX PERSPECTIVE
By Damir Becirovic
Software is automating a good chunk of work today (thank you ChatGPT) – but not every industry can be automated. Software can't cut hair, fix broken pipes, repair cars, or maintain office space – this is all best left to humans.
But software can make these industries more efficient. Boulevard helps salons operate more efficiently, as does ServiceTitan for home services and Tekion for car dealerships. All of these Index-backed companies, among many other vertical software companies, do just that.
Today, we're excited to announce our seed investment in BrightGo, which is aiming to be the software company for the commercial cleaning and janitorial industry. This is an industry that employs roughly 2.5 million people in the US but tends to run on pen, paper, or poor software that isn't built for the industry's specific needs.
BrightGo is founded by Gerald Fong, a high school classmate of mine, and Saagar Deshpande. Gerald and Saagar are experienced builders from Meta and EDO who obsess over quality and usability of software. They are on a mission to bring Silicon Valley-grade software to a large industry that has been ignored by folks in the Valley.
The BrightGo team is off to a fast start. While the company has only been in operation for ~1 year, it has already introduced a product that is being used on a daily basis by many companies and is well on its way to being at the core of how they operate. We're excited to join them on this journey.
THE DETAILS
Janitorial services are a lynchpin of the American economy. Making up the fifth largest job category in the U.S., janitorial workers are at the forefront of ensuring office buildings, schools, supermarkets and storefronts are clean, presentable and safe each day.
Yet this key industry has been forced to work with outdated or limited technologies in support of their operations. Inefficient scheduling, inspection and management systems not only affect the services being provided, but delay payments to workers, put commercial cleaning contracts at risk, and increase overheads. The challenges mean limited transparency, poor communication, and efficiency barriers, all of which prevent businesses from scaling.
BrightGo is working to solve this. Founded by two Meta and Asana engineering veterans, it is bringing janitorial management into the 21st Century. Through an intuitive interface and mobile app integration, it allows companies to easily manage large employee groups across multiple remote locations. Business owners have access to a centralized dashboard to manage scheduling, attendance tracking for payroll, inspection systems and an in-app employee communication portal. Currently, employees can use the smartphone app to clock in and out, confirm their schedules and communicate with management.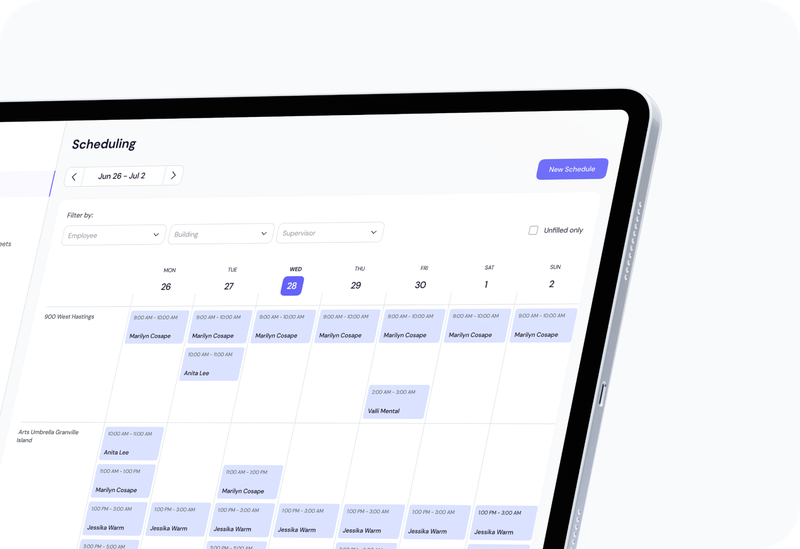 The $3 million in seed funding announced today will be used to fast-track product development, with more functionalities set to roll out in 2024. Having launched earlier this year, the company already has customers across the U.S. and Canada that provide janitorial services for national supermarket chains, retail stores and malls, among other commercial properties.
"Before, every day at 5 p.m., I was waiting for more unhappy calls from property managers," says Michael Anastasi, Chief Operating Officer of Cleantech Services Group, a business running since 1996 that cleans over 400 locations in British Columbia. "Now with BrightGo, I can check before I have dinner, and know that our clients in the evening will all be taken care of. We're not going to get any calls that day that our employee didn't show up. It's very easy now to see we're doing a good job with all our clients."
BrightGo was launched in 2023 by Gerald Fong and Saagar Deshpande. Gerald is a second-time founder who honed his engineering skills at Meta and Dropbox, while Saagar previously worked in engineering at Asana and EDO, a data, measurement and analytics software company. To better understand the unique needs and expectations of the janitorial industry, prior to launch, the duo partnered with prospective customers to work in the field and embed themselves in every aspect of the business, from cleaner to manager.
"The janitorial industry has been underserved by the tech industry for more than 30 years, yet employs millions of workers across the U.S.," explains Gerald. "The janitorial tools currently available are hard to use and are often either cumbersome and clunky or don't talk to each other well. At BrightGo, we are building the first janitorial platform that is both comprehensive and incredibly easy to use for the cleaner and the owner. It sounds simple, but in reality, nothing has delivered on that to date."
Published — Nov. 13, 2023