BRINC: Building Technology To Save Lives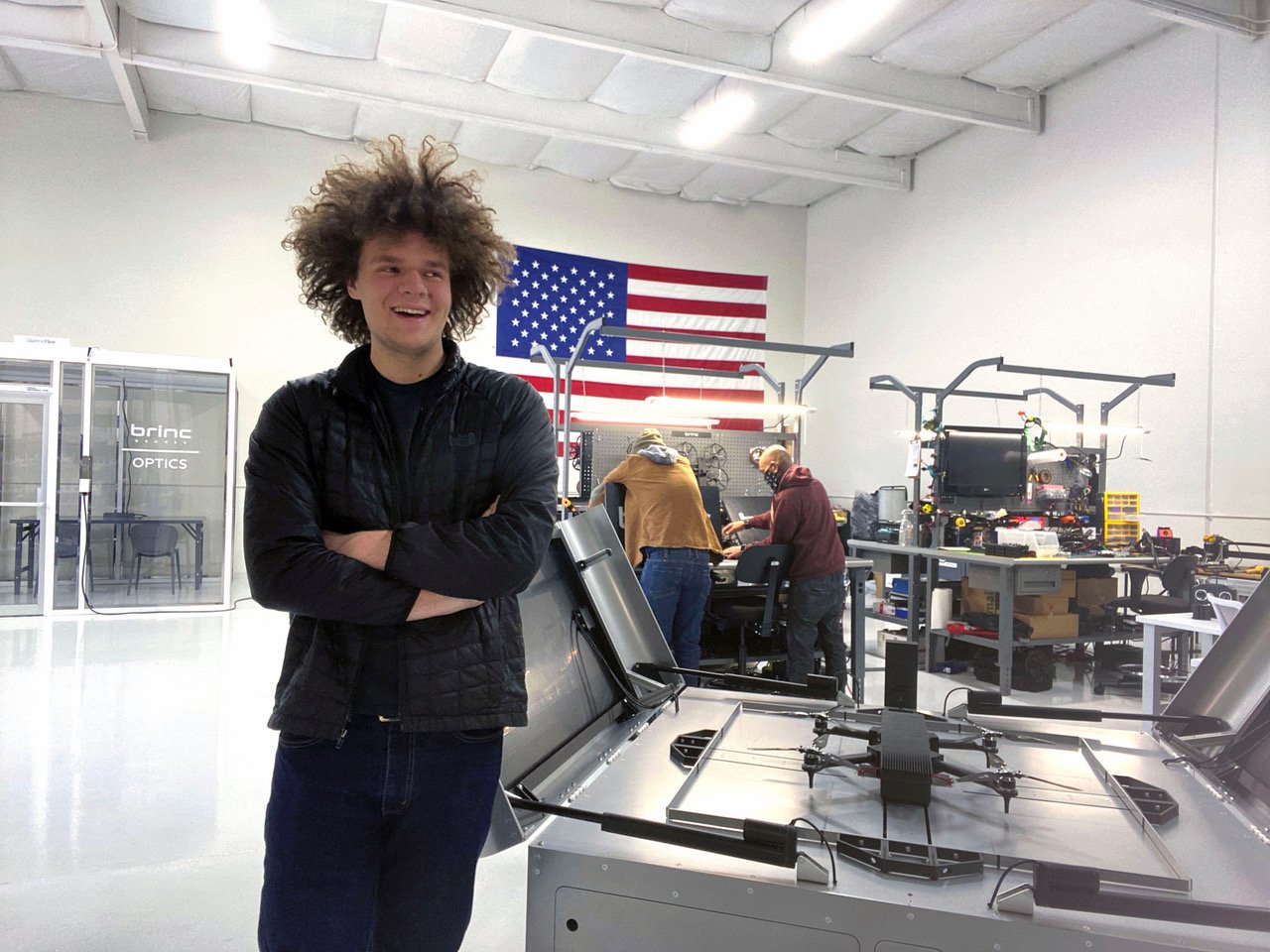 When we had our first call with Blake Resnick, founder and CEO of BRINC, earlier this year we didn't quite know what to expect. We were introduced to Blake by Scale AI CEO Alex Wang, another brilliant Index founder, who insisted we needed to meet "one of the most amazing guys [he] know[s]." While I was excited given the strong recommendation, I have to admit to some reservation - investing in hardware can be tough, and a company selling drones to police and public safety was certainly outside our B2B SaaS and Open Source sweet spot. Twenty minutes into the conversation I knew that Blake, and the company he was building, were special.
"Twenty minutes into the conversation I knew that Blake, and the company he was building, were special."
— Erin Price-Wright, Index Ventures
Blake truly stands out. He started college at age 14 and really was a wunder-kind, the kind who precociously hung out so much on online McLaren car forums between classes that their Head of Design offered him an internship, years before he could get a drivers license. I had the privilege of meeting Blake's mother while I was visiting the Las Vegas factory. She fondly recalled the slow encroachment of Blake's projects into the public spaces of their house during his teenage years - motors and sensors and engines filling up their garage, finding motherboards and wires and bits of carbon steel invading the kitchen counters and tucked between couch cushions -- although she did draw the line when Blake built a nuclear reactor in the living room.
In October 2017, Las Vegas was the site of one of the most horrifying events in recent memory (link). When the mass shooting happened, practically on Blake's doorstep, he felt what I can only describe as 'a calling.' I spoke to the SWAT officer from the LVMPD who ran the Mandalay Bay operation. After the incident, Blake, then a 17-year old college dropout, kept asking to meet. Finally the officer agreed to have a coffee with him, and during the meeting Blake asked him how he thought technology could have helped the team respond more quickly and safely. A few weeks later, Blake turned up with the first prototype of the LEMUR drone. It had lots of issues and was practically unusable. But instead of giving up, Blake spent several months going on every SWAT call-out with the LVMPD SWAT team to understand the missions and test the technology. Then he built another version, and then another one. Until finally after nearly a year of iterating, he had a product good enough to take the place of an officer clearing a building for a warrant search.
Despite the brilliant founder and inspiring founding story, investing in a company selling drones to police departments was a leap for us at Index. As a firm, we are sensitive to concerns that marginalized communities have around militarizing the police, and we have strong policies in place around investing in companies that don't cause harm. What convinced us was the obvious desire BRINC has to increase safety in both police departments and the communities they serve. The company's core mission is to save lives. Violence in police interactions usually traces back to people feeling unsafe, which is exacerbated anytime there's a communication breakdown. BRINC's goal with their first product, the LEMUR, is to restore communication channels between officers and suspects; neither should ever fear for their lives in a police confrontation. Where it's deployed, BRINC plays a critical role in establishing that trust and de-escalating potentially dangerous situations.
Firmly believing that we were aligned on the company's values, we worked with Blake to define a set of principles that BRINC, the board, and Index could use as a framework for when tough decisions come up. This upfront intention-setting helped lay a strong foundation for working together and gave us confidence to take a risk. And at the end of the day, that's our job as investors - backing founders who do not shy away from solving real, hard, complicated, nuanced problems.
"Blake and the entire team have a massive vision to transform public safety and they are just getting started."
— Erin Price-Wright, Index Ventures
Less than a year ago, BRINC consisted of Blake building drones in his parents' garage. Today, the team has grown to 60 talented engineers and operators from companies like Tesla, SpaceX, and Boeing - all recruited by Blake - producing drones in their Las Vegas and Seattle factories, partnering with almost every major police department and SWAT team in the country to help save lives. During a time when technology is being cast as something that causes problems in our society, BRINC is building technology to save lives. Blake and the entire team have a massive vision to transform public safety and they are just getting started. They are building a company of inventors and builders that run towards the fire, and we at Index are excited to be supporting them on this critical journey.
Published — Oct. 12, 2021