cargo.one, the World's First Real-Time Booking Engine for Air Cargo, Raises $18.6M to Expand to North America and Asia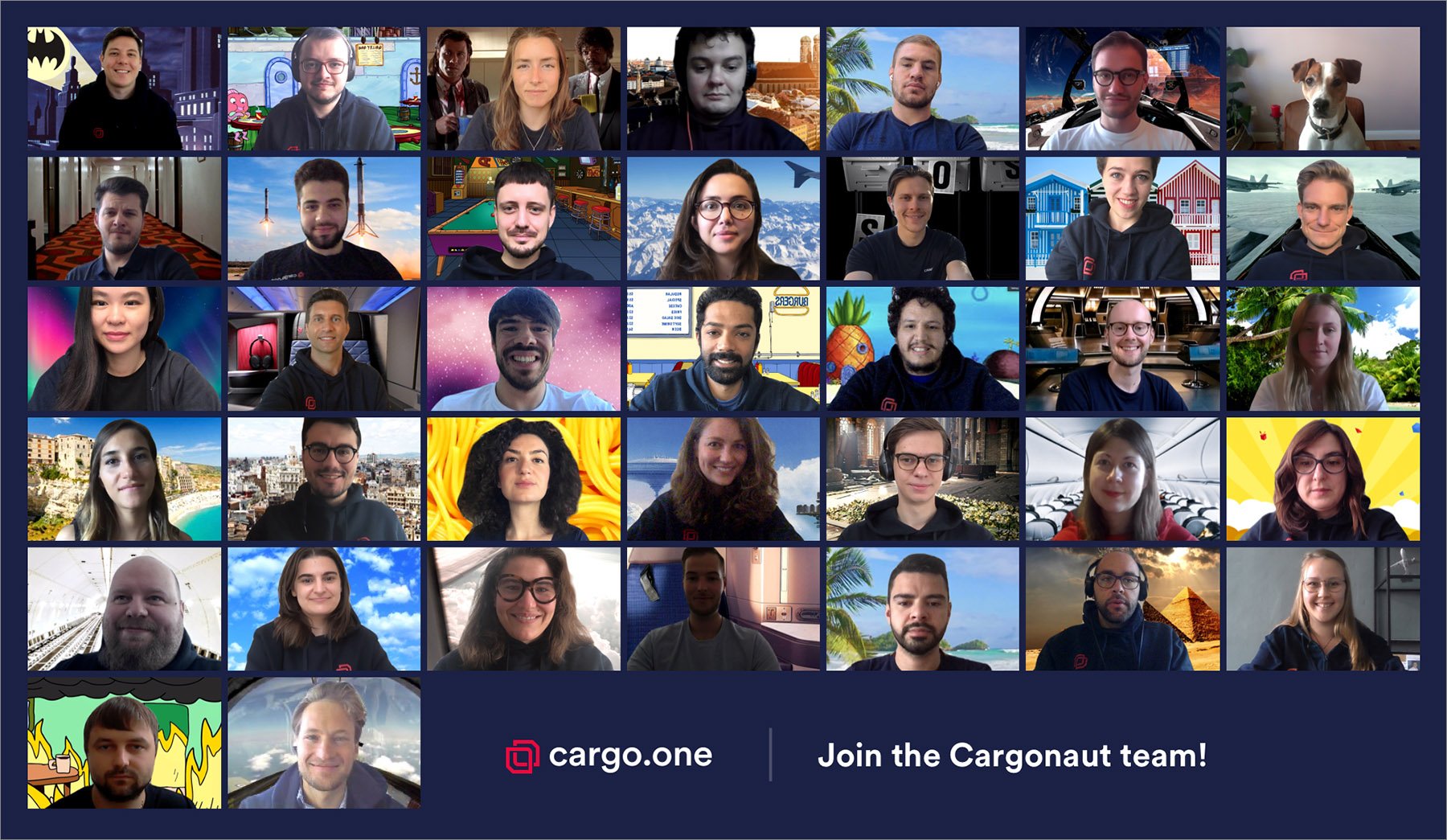 The Berlin-based technology company is building an operating system for air cargo to simplify and streamline the fragmented market
Series A investment led by Index Ventures, joined by new and existing investors
Major global airlines partner with cargo.one to distribute freight capacity seamlessly and reach more customers
With the challenges of Covid-19, cargo is an increasingly important part of passenger airlines' business model – but current booking processes are slow, manual and laborious
Berlin – cargo.one, the digital booking platform for air cargo, has raised $18.6 million in venture funding. In response to rising demand, it plans to onboard new airlines, grow in additional markets and hire 70 employees, tripling the size of the company by the end of the year. The company already counts Lufthansa, All Nippon Airways, Finnair, Etihad, AirBridgeCargo and TAP Air Portugal among its 12 partner airlines, helping them boost their financial performance in the face of the challenges posed by Covid-19.
cargo.one's ambition is to build the global operating system for air cargo. Its intuitive digital platform makes booking shipments as simple as booking a holiday or business trip on Skyscanner or Kayak. Because cargo.one links directly into the airlines' systems, it is the first product to provide real-time visibility of available capacity and prices, as well as additional quality parameters like temperature control.
The Series A round was led by global venture capital firm Index Ventures, with the participation of Next47 and prior backers Creandum, Lufthansa Cargo and Point Nine Capital. They were joined by angel investors including Tom Stafford of DST Global and Carlos Gonzalez-Cadenas, currently Chief Operating Officer of GoCardless and former Chief Product Officer of Skyscanner. Martin Mignot and Max Rimpel of Index Ventures led the investment.
The market for air cargo is vital but broken
With 35% of the world's trade by value being transported by plane, air freight generates $100 billion in revenue every year. Pre-Covid projections forecast the market would grow at approximately 4.2 per cent per year. The speed of air cargo makes it a crucial link in global supply chains – especially for the many industries that ship in components for 'just in time' manufacture, and for life-saving products such as pharmaceuticals.
As the margin on seats has eroded in the past decade, air cargo was already increasing as a percentage of passenger airlines' revenue. As passenger numbers have tumbled sharply during the Covid-19 pandemic, airlines are relying even more heavily on cargo. Only around 20 percent of the widebody passenger capacity is still flying today, and some passenger airlines have even removed seats to convert aircraft into freighters. At the same time, traditional ways of selling and booking air cargo by email or phone have become almost an impossible task, as personnel are working from home – resulting in the rapid adoption of new digital tools.
'Right now, booking air cargo is a long and cumbersome manual process, driven by a 'feel' of the market, and a short-termist, reactive approach to sales,' said Moritz Claussen, co-founder and Managing Director of cargo.one. 'With cargo.one, airlines are meeting customers' increasing demand for an outstanding user experience, while substantially lowering their costs to reach new customers and revenue opportunities.'
Air freight is booked via companies known as freight forwarders, who organise shipments and supply chains for shippers. They fire off rounds of emails every day to airlines, in order to get offers for freight services - often without comprehensive visibility of the services available. They then wait to receive emailed replies, and sift through the individual quotes to obtain the best price and specifications for their shipments. This process leads to long wait times, high transaction costs and an inefficient use of the cargo space available.
cargo.one unifies a fragmented sector
As well as its partner airlines, cargo.one is serving more than 1,500 freight forwarding offices, including 21 of the top 25 companies globally. From January to June 2020, cargo.one saw the number of air cargo search requests by freight forwarders quadruple. The number of quotes distributed in that time increased by two thirds, while in June alone, cargo.one made more than 1.1 million bookable air freight offers available to freight forwarders.
'The new era of air cargo is being driven by universal access to real-time data,' said Oliver T. Neumann, co-founder and Managing Director of cargo.one. 'It's essential that the industry has access to tools that allow players to both respond and anticipate market dynamics. From day one, cargo.one has provided freight forwarders with an outstanding user experience and access to real-time data. We now plan to accelerate the release of major product additions that will increase the connectivity between freight forwarders and airlines, and empower them to work more effectively together.'
In the next phase of its growth, cargo.one will expand to North America and East Asia, to fulfill airlines' desire to be able to sell globally though cargo.one and serve freight forwarders around the world. It will also build tools that use data to let airlines offer more dynamic pricing, engage in better route planning and predict demand in volatile markets.
'The airline sector relies on operational excellence, but its back-end infrastructure is stuck in the dark ages,' said Max Rimpel, Principal at Index Ventures. 'cargo.one's platform doesn't just help to bring air cargo bookings into the 21st century, but lays the foundations for a complete overhaul of how the air cargo industry operates, leveraging data to help both airlines and freight forwarders to run their cargo operations more efficiently.'
cargo.one's three co-founders Oliver T. Neumann (MD), Moritz Claussen (MD) and Mike Rötgers (CTO), have been long-standing friends and business partners since university. They co-founded several businesses, including OptioPay, a payments company. Through friends, they became interested in the fragmented logistics market, and discovered the potential for cargo.one after interning (for market research purposes) with a freight forwarder. When they saw the arduous process by which he booked a shipment of 470kg milk powder to be sent to China, they realised the potential for a business.
Miguel de Paiva Gomes, Global Chief Cargo Officer of TAP Portugal Airlines, a partner airline that recently joined cargo.one's platform, commented: 'cargo.one supports us to distribute our air freight capacity more effectively, gain access to fragmented demand and to improve the cargo booking experience for our valued freight forwarding partners. Many businesses rely on air cargo to keep their supply chains running, and our partnership with cargo.one is part of our dedication to help them to operate and expand their business in these challenging times.'
Martin Mignot, Partner at Index Ventures, said: 'cargo.one has formed close partnerships with major global airlines, who have subsequently seen their cargo business expand significantly. Conversations with dozens of other airlines in the Americas and Asia show the clear need for a simple booking engine for air cargo, and early signs of the far-reaching impact it will have on the airline industry and businesses around the world who rely on it to serve their customers.'
About cargo.one
cargo.one (Cargo One GmbH) is a platform for booking and marketing air freight capacity. The company focuses on offering instantly bookable quotes for multiple airlines, making it the first booking platform of its kind. Accredited freight forwarders can search, compare and book these quotes on the cargo.one platform in real-time and receive an immediate booking confirmation. Partner airlines gain access to a cost-effective, data-driven and fully digital distribution channel. cargo.one's product changes long and asynchronous booking processes by telephone or e-mail, enabling substantial cost savings on both sides. The cargo.one team combines international experience in building digital business models with relevant expertise in the modernisation of B2B processes. Situated in Berlin, Germany, cargo.one has partnered with global airlines such as Lufthansa, Finnair, AirBridgeCargo, Etihad and All Nippon Airways while serving a fast-growing number of about 1,000 freight forwarding companies, including players such as Hellmann Worldwide Logistics, Agility Logistics, DACHSER and Flexport.
Published — July 27, 2020