Fintech In the Metaverse & More -- Five Predictions for the Year Ahead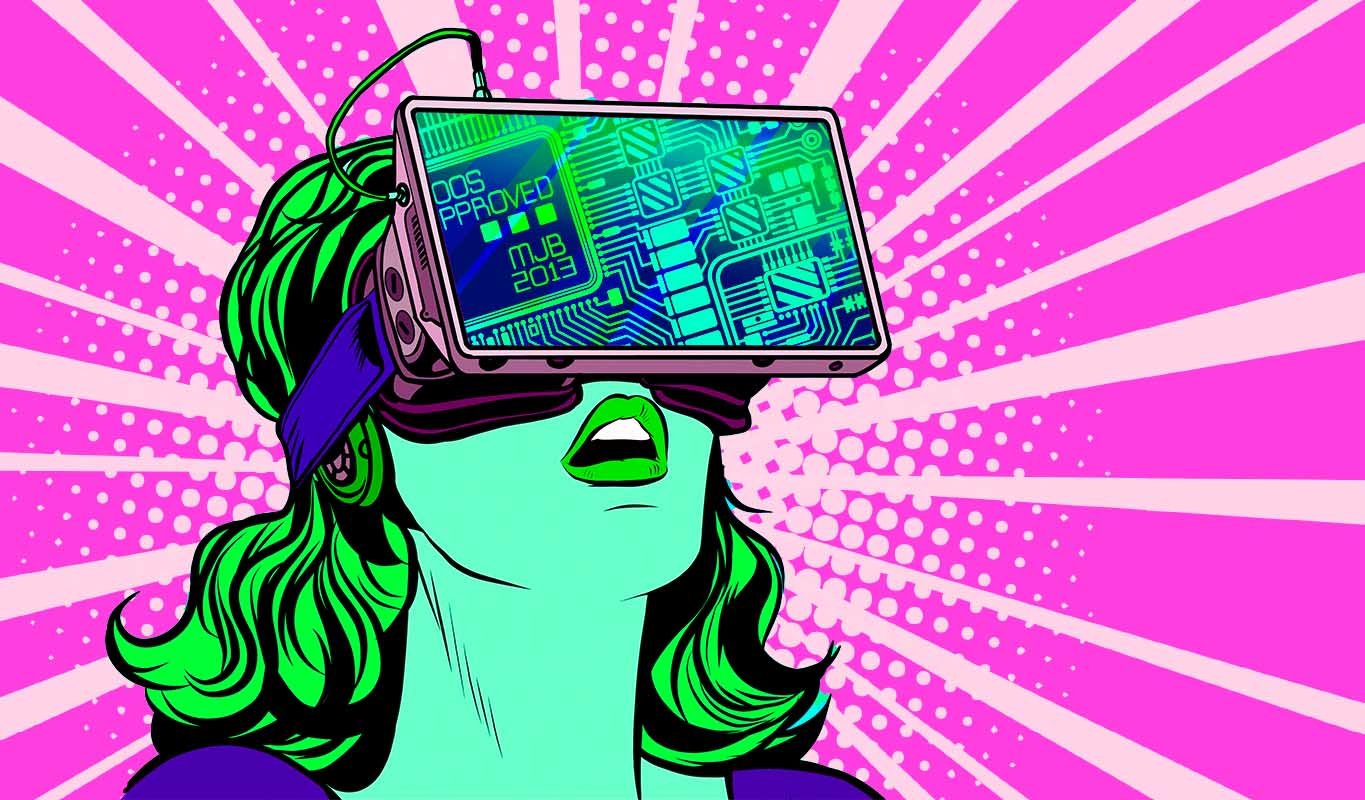 You could argue 2021 was the year of fintech, from the meme stock craze to big industry IPOs and the meteoric rise of the web3 economy. Where will 2022 take us? In his annual series, our partner Mark Goldberg shares five fintech predictions ranging from fintech in the metaverse to GenZ traders fighting climate change and some transformative M&A. In short, we should expect next year to be a watershed moment for financial services.
Note: This is a slightly edited version of @Mark_Goldberg_'s original post on Twitter.
Before I get into it, let me break down how I did last year. What did I get right?
The rise of fin-fluencers ✅
Neobanks outscaling incumbents (Nubank, Revolut) ✅
Multiplayer finance ✅ (Well, through DAOs not TradFi yet)
What did I get wrong?
The meteoric rise of web3. More than the success of @FTX_Official @coinbase @opensea et. al, the quality of people moving into this space has been 🤯 -- and will be a leading indicator for crypto in 2022.
So -- what can we expect next year?
Prediction #1: Fintech embraces the Metaverse.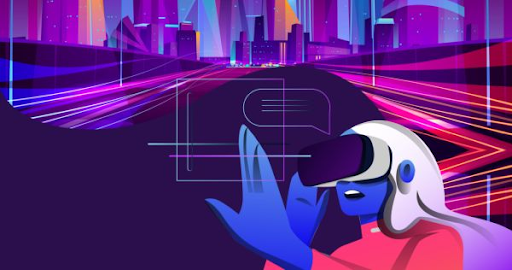 As time spent in the Metaverse explodes, so will the complexity of our financial assets. The merger of virtual and fiat wealth will redefine every service offered by a traditional bank.
Imagine a world where:
You can get a CC secured by your portfolio of NFTs 💳
Your mortgage application takes into account your Roblox Robux as personal assets 🪙
Your income from play-to-earn games like @AxieInfinity verifies you're a trustworthy tenant on a lease 🎮
Millions of consumer balance sheets will have meaningful virtual assets next year -- just b/c it's hard to value them, doesn't mean they should be ignored.
A next-generation of virtual/fiat products is around the corner.
Prediction #2: GenZ traders will become one of the most powerful forces in the battle to stop climate change.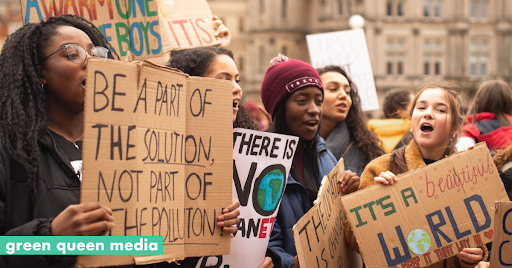 One of the biggest surprises of this past year was the organizing power of investors online.
From WallStreetBets to the Constitution DAO, community became central to both TradFi and Web3 worlds.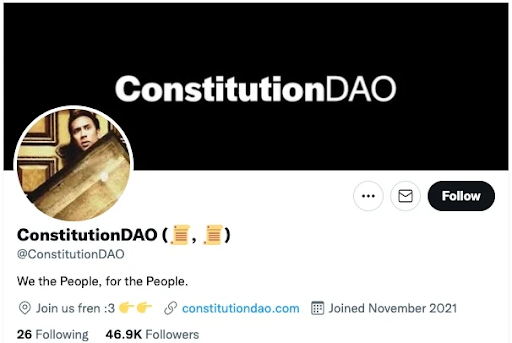 The rise of social/community-based trading means that individuals now own 12x the amount of the stock market as hedge funds.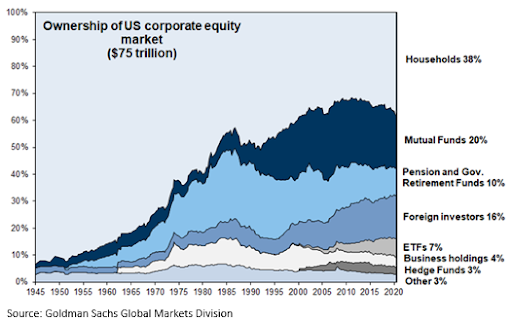 The power of grassroot investors has never been stronger.
More investors + Stronger communities = Unprecedented influence
Fintech has created new mechanisms for collective action
Where do communities focus their energy?
2021 -- meme stocks
2022 -- social activism
The ability to effect social change through ownership is the next frontier in this movement
In 2021, hedge funds added progressive directors to @exxonmobil & forced Glencore to consider divesting coal.
In 2022, what can retail activists do with their power??
We're going to find out. We may remember 2022 as the year fintech helped to solve climate change.
Prediction #3: The piping between Web2 and Web3 is coming.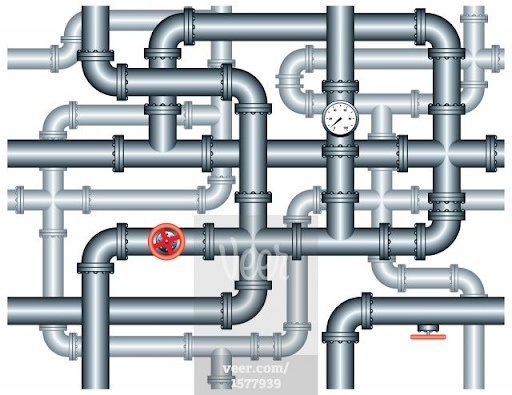 Some of the biggest fintechs of the last decade created the infrastructure for traditional finance:
@Plaid @stripe @lithic @unit_co_ @Persona_IDV @usealloy @CodatData
Making it easy to build products and move money across the web.
But the friction between Web2 and Web3 is still significant -- from transaction/gas fees to onboarding. It's painful.
@fintechJunkie's observations as a newcomer to crypto nailed it -- why is there so much 'waiting around'?
There is a long way to go to move money seamlessly across web3.
While @moonpay, @WithPonto, Ramp and others are making headway here, the need for better / faster / cheaper rails that increase portability is one of the biggest prizes in fintech today.
Prediction #4: NYC becomes the dominant hub of fintech -- with Brooklyn at the 🎯 of crypto.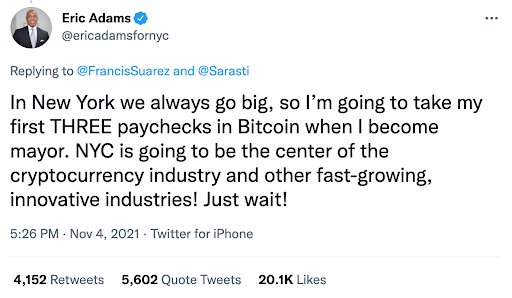 The momentum in the NYC fintech ecosystem has been building for years -- I spoke to Julie Verhage (pre @fintechtoday_!) about West Coast fintechs opening NYC offices in 2019.
More recently, @alexrkonrad wrote a great story on VCs flocking to NYC.
For me, the rise of great NYC fintech companies is causing this inflection -- look at how many of these businesses now are being built in New York: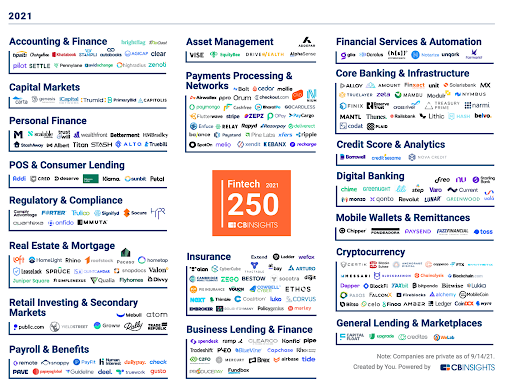 But the real catalyst for NYC's inflection has been crypto.
The energy is insane (especially in BK) -- crowds tend to be young, vibrant, and multi-dimensional. Folks like @CharleyMa @MahdiRazaMR @packyM @sabrinahahn @caitlinxyz.
2022 will be a big year for the Big 🍏 👀
Prediction #5: @stripe buys @opensea

This is my 'moon shot' prediction, and I have no knowledge or vested interest in either business.
But here goes -- Stripe is well-positioned for transformative M&A in 2022.
OpenSea may seem like an unlikely target, but here's why I think the combo would be killer.
Stripe has re-embraced Web3 -- from a hiring spree in crypto to welcoming @matthuang to its board.
Sure, the obvious and safe move would be to buy a crypto on-ramp business...
...but, if I had sway with @gaybrick @gponcin @patrickc (which I do not) I'd say, go big!
Buying the category's most exciting discovery platform would put Stripe into consumer & crypto in one fell swoop. And it would be the kind of splash that catapults them ahead of PayPal and Square.
Play chess, not checkers.
Stripe + OpenSea may be the 1 + 1 = 3 deal of 2022 🔮
What resonates? What did I miss? Let me know on Twitter @Mark_Goldberg_