Game on: short-term slowdown, long-term play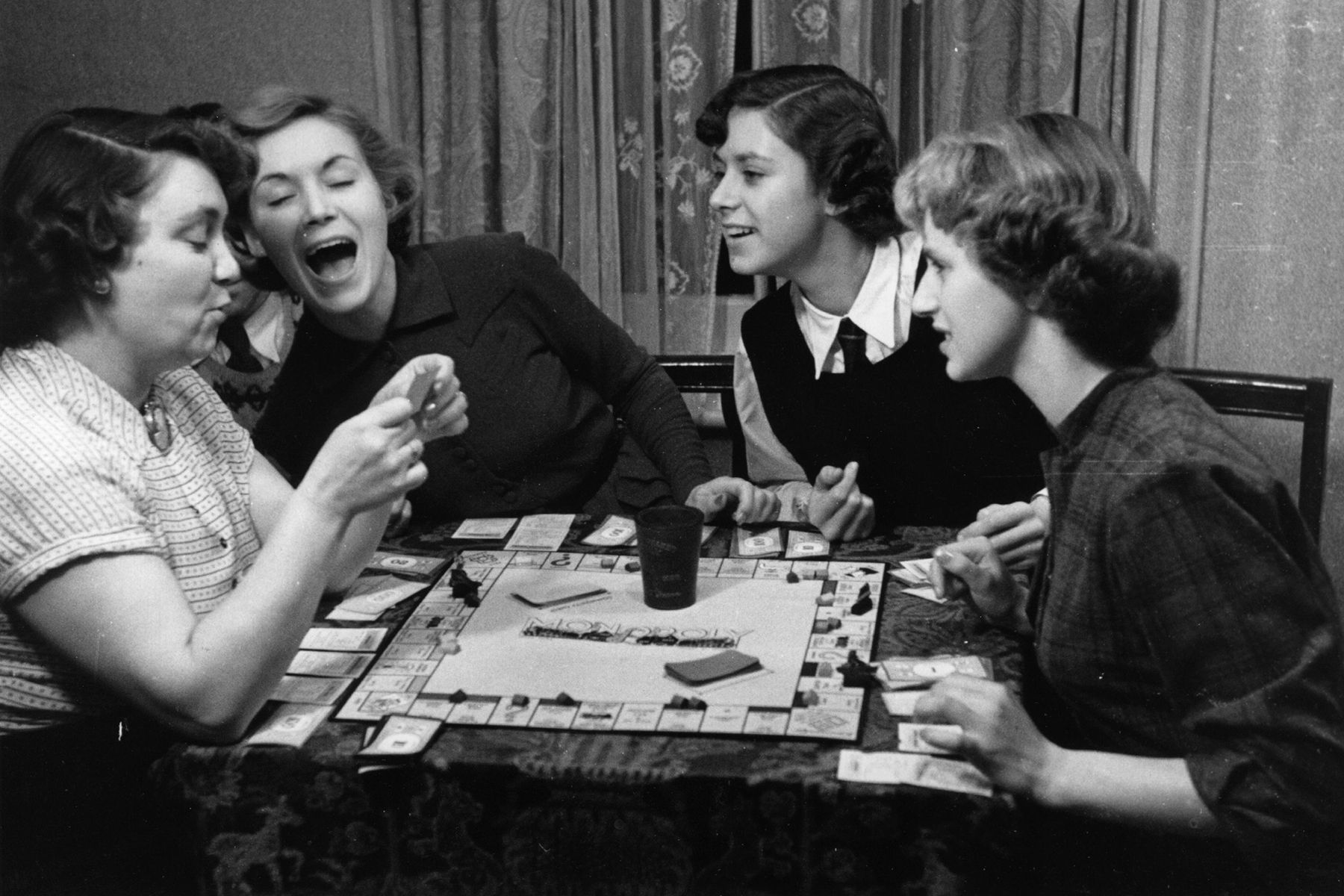 The end of Covid restrictions. A fall in consumer spending. Apple's privacy changes. A slowdown in player growth and a dip in 2022 revenues. For some, this is evidence that gaming might not be as recession-proof as once believed – or even that the industry could be showing signs of decline.
I will set out an argument why we see it from a different perspective. While there is evidence of a slowdown in recent months, the underlying outlook for the industry is not only unchanged, but stronger than ever: It's one of the most affordable forms of entertainment; growth is set to return in 2023; gaming companies continue to exhibit high operating margins; and while Apple's privacy changes have made mobile distribution more difficult, this will drive up the quality of games and facilitate even greater long-term player engagement.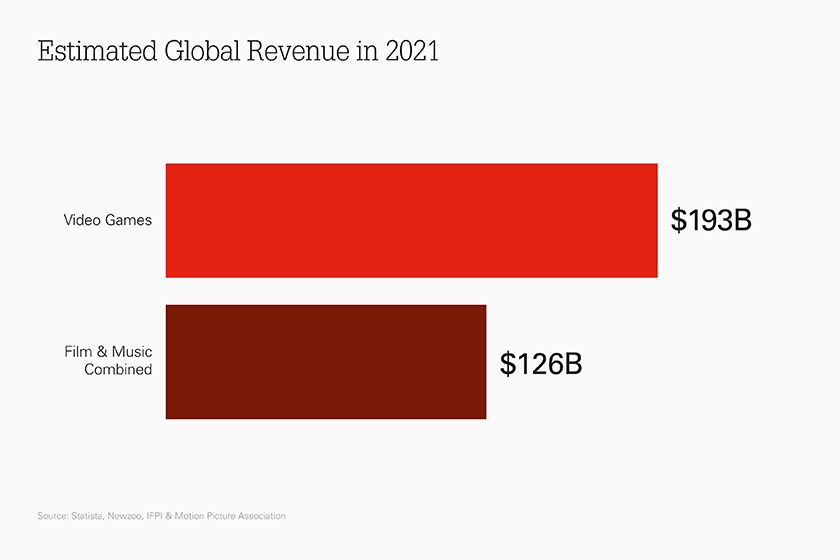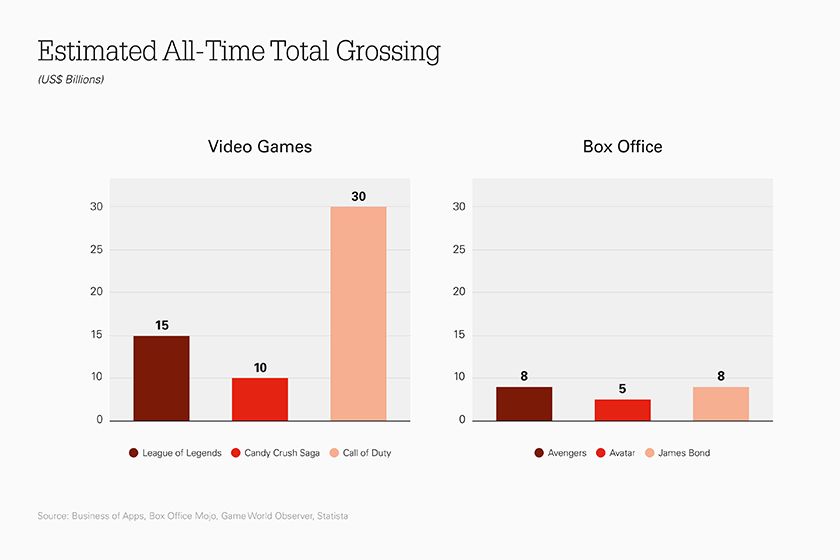 Gaming is resilient and timeless
Games are a cultural glue that have been bringing people together since the earliest civilizations. Part of this enduring popularity is that games have always offered an affordable form of entertainment: during the Great Depression families and neighbors gathered around sets of dominos, packs of cards and even – perhaps, somewhat counterintuitively – the first widely available release of Monopoly, which by 1936 was owned by millions of American households.
Driven by the success of Monopoly, Parker Brothers, the game's biggest publisher, was one of the few winners of the downturn: at the start of the Great Depression, it was on the brink of bankruptcy; by the end, it was a highly profitable business with millions of dollars in revenues.
Mirroring the Great Depression, it was during the 2007-2008 financial crisis that the average number of hours spent playing video games accelerated to all-time highs. Console purchases peaked in 2008, subscription models began to gain traction, and while company valuations fell between 2007 and 2009, revenues and player numbers increased, ultimately leading to a renewed take-off in valuations from 2013.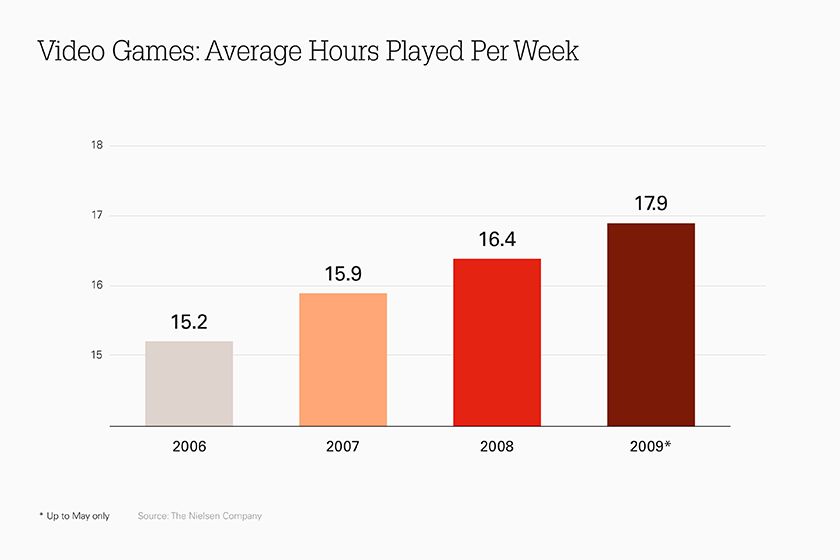 The landscape is different today, but evidence from the last major macro downturn – as well as the Great Depression – shows us that gaming is not only resilient, but can perform well during and after a period of economic difficulty.
And while recent earnings reports from the big gaming studios showing a slowdown in sales have led some to question if this 'recession-proof' grand narrative still stands, following a slight drop in 2022 , industry revenues are estimated to grow 5% annually over the coming years – with global gamer numbers set to exceed 2021's figures in 2023 to reach 3.3bn.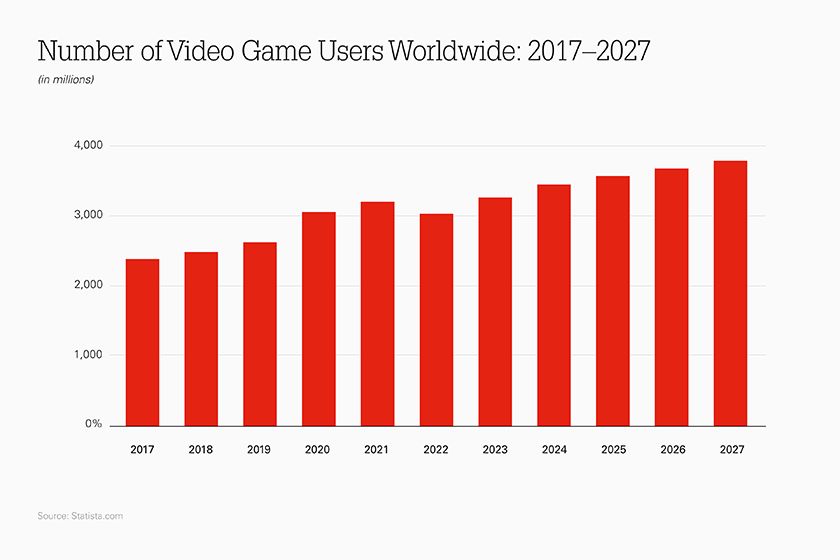 Gaming is not only timeless, it's ageless
The breadth of genres and gameplay variations across platforms attract players from almost every demographic: gaming is the most popular active form of entertainment for all 10-50-year-olds.
This interaction with games only becomes greater as each new age group emerges. According to research from Bain & Company, gaming is the media 18-34-year-olds spend the second most time interacting with weekly (after socials). For 13-17-year-olds, gaming takes the lead. What's more, 10-25-year-olds spend more time playing games than watching TV or movies and almost as much time gaming as listening to music.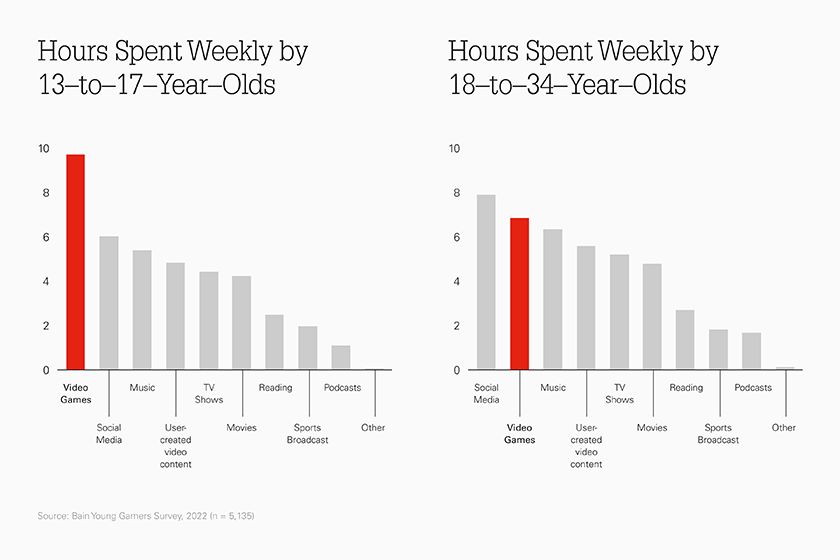 This is in part due to the remit of games expanding. Rather than simply being a place to play, games are becoming a new kind of social network. Led by the most popular emerging digital environments like Roblox, Minecraft, Rec Room and Fortnite, games are now places to hang out with friends, watch live music shows, explore and even shop together.
It means that gaming's reach and total addressable market continue to expand. Just look at Roblox's Q3 and Q4 2022 results: traditionally a platform for school-aged children, the company's biggest growth came from 17-24 year-olds. Across gaming in the US, from 2018 to 2022 the number of players over the age of 45 also grew from 65 million to 87 million annually.
This is all set to be further facilitated by innovation from companies like mobile gaming controller maker Backbone, which is enabling more complex games and immersive experiences powered by the cloud to be played on mobile devices, the largest and fastest-growing gaming platform.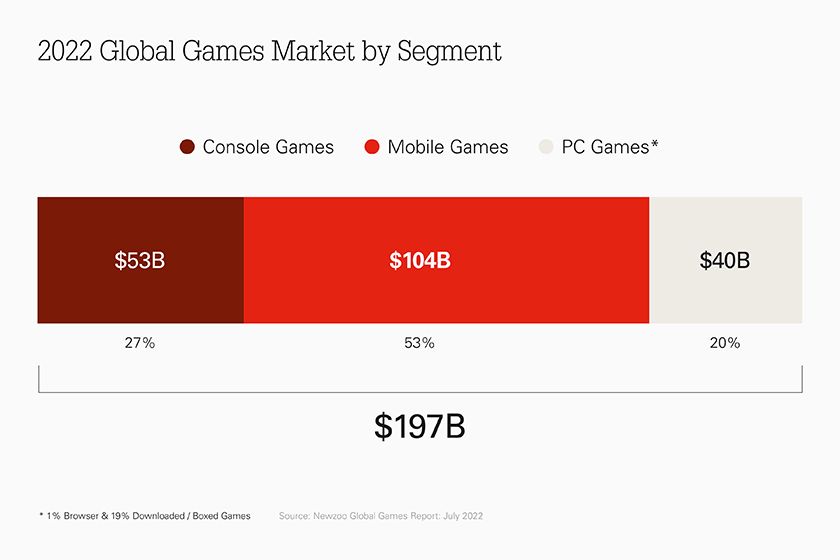 Games aren't just great products, they're great businesses
Gaming companies can be durable, high-margin businesses, with mobile games especially capital efficient. Across both the gaming studios we have invested in at Index, and the largest publicly traded gaming companies – including Activision Blizzard, Krafton, Nintendo and Paradox – we're seeing the ability to operate at 35%+ operating margins at scale. This is far better than most companies from other entertainment categories, including Netflix which peaked at a 21.6% margin in 2021, and Disney which has averaged 19.3% over the past five years.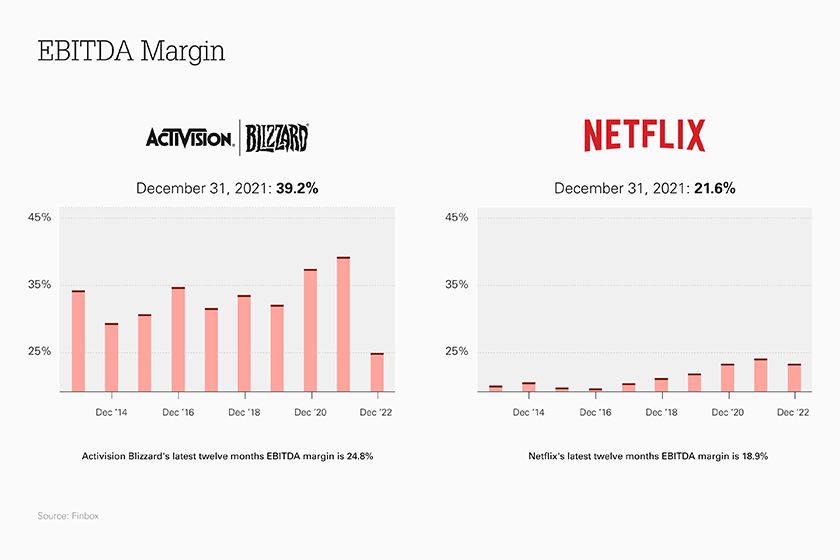 For mobile gaming in particular, continuing a trend set by companies like King and Supercell, the majority of spend for companies is marketing and distribution.
With development costs relatively low, lean teams can create high-reaching, big-revenue games. Little localisation is required with companies able to launch games internationally from day one. The low running costs can meanwhile also help gaming companies weather any short-term crises.
ATT and survival of the fittest
The mobile gaming boom has triggered somewhat of a gold rush; the constant release of new titles (nearly 100,000 new games across all app stores every quarter!), has led to a lowering quality of game design and gameplay as certain studios prioritize short-term reach over creativity and innovation due to an over-reliance on the ease of distribution.
With this diminished as a result of Apple's ATT privacy and tracking rules, there will undoubtedly be an impact on downloads for many studios. But, in the long-term, this could also bring a renewed emphasis on more highly crafted, longer-lasting games; titles that can bring magic to mobile, stand out from the crowd and grow through word of mouth.
Downturns and difficulties can also provide an opportune environment for quality-driven teams with strong commercial instincts and flawless executions to thrive.
It's why at Index we've always supported gaming companies that craft original, unique titles: while distribution has always been important to success, creativity was why we backed King and Supercell in the early 2010s, and it remains why we more recently invested in Dream Games, Bigger Games and BIT ODD.
Undoubtedly, there are short-term challenges facing the gaming industry: there are macro-economic pressures on valuations, a reduction in consumer spending power and distribution obstacles resulting from Apple's privacy changes. But downturns and difficulties can also provide an opportune environment for quality-driven teams with strong commercial instincts and flawless executions to thrive. At this time, a focus on craft will bring new players to games, and lead to long-lasting relationships between gamers and the titles they play.
Already an integral part of popular culture, this will ultimately mean gaming continues to grow as disparate forms of entertainment, socializing and creative expression are drawn into this digital future: game on.
Published — April 5, 2023