High Fashion and Tech Turned Farfetch into a Luxury Powerhouse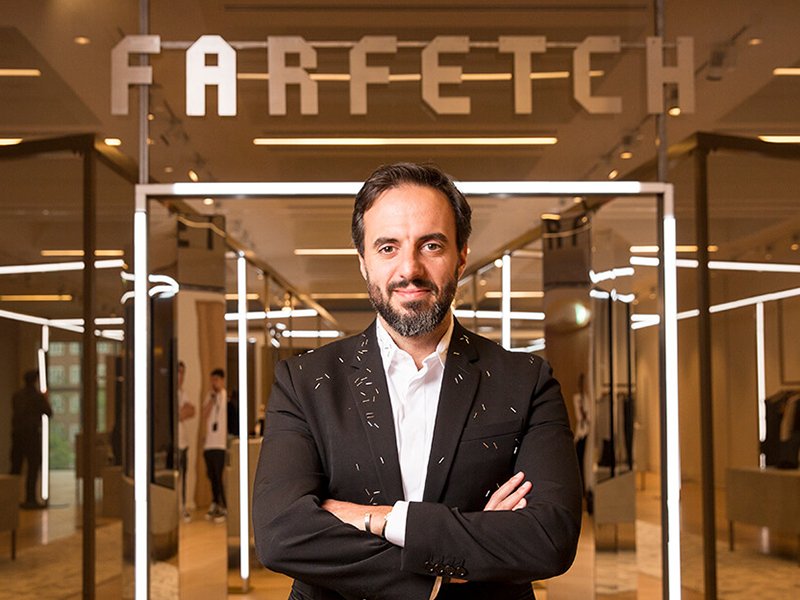 As Farfetch begins its life as a public company after today's listing on the New York Stock Exchange, Index Ventures partner Danny Rimer shares his thoughts on working with the company over the last seven years.
The first time I visited the Farfetch headquarters in Porto, Portugal, it was a revelation. It was early 2011 and Index had already invested in ASOS and Net a Porter, so I'd expected the office to be overflowing with more impeccably dressed, fashion-forward staff that looked like they'd walked straight off a runway. Yet as soon as I walked in, Farfetch felt unique; the office was humming with the calm, determined concentration of dozens of engineers poring over their code. It was a fashion startup doing things differently, and building something special.
Farfetch did build something special, and today is a great testament of their incredible achievement. Since that first meeting, the company has grown not just its powerful network of brand, boutiques and design curators, but has carved a significant niche for itself - an impressive feat given Amazon's perceived stronghold over almost every sector of online retail.  
In the process, Farfetch has built a community of nearly a million high-spending customers around the world, and continues to expand the business in ways José, the founder, imagined. Taking the company public confirms Farfetch as the leading technology platform for the global luxury fashion industry, and much of that credit goes to the remarkable patience and vision of its founder, José Neves, and the strength of an awesome team. 
Like many entrepreneurs, José built Farfetch around his own passions. He started coding when he was 8-years old on his ZX Spectrum, and by the time he was 22 he'd started his own fashion technology platform and a shoe brand in London. José says himself he's not the best coder or the best designer, but the combination of expertise in both is rare. It meant that he understood the seasonal fashion industry, he understood code, and he knew that this beautiful industry (as he's fond of calling it) needed a platform.
By the time he started Farfetch in 2008, he had set himself the ambitious task of helping the world's greatest fashion boutiques. He wanted to convince the world's most exclusive boutiques to sell their stock online, creating a technical infrastructure that would connect them, and building a logistics system that could - literally - deliver directly to the customer. 
He knew that relationships with those boutique owners would be critical, and made sure they understood that Farfetch wasn't a competitor, but an enabler. And Farfetch began to grow, built around that network of small, independent, high-end boutiques, each of them using Farfetch's platform to list their stock online, manage inventory, and access real-time global data on sales, pricing and customer behavior.
It's an elegant solution to a number of inefficiencies in luxury fashion retail - problems we know intimately from our investment in Net a Porter. 
Stores have to buy a huge amount of very expensive inventory at the beginning of each season, but often end up heavily discounting it at the end of the season. The beauty of Farfetch, which José eloquently highlighted from the get-go, is that it doesn't have to buy, store or package its own stock because it's a platform - a marketplace for luxury fashion with an extremely high level of service. 
Those stock limitations mean boutiques can only hold a certain amount of products and sizes, but Farfetch can connect the consumer with vast breadth and depth - something José calls discoverability and desirability. As of the end of June 2018, the site offered 3.9 million items from 2,900 brands and 930 global sellers; a customer could order a piece from Poland, one from Sicily and one from LA, building their own collection from the world's best boutiques. By the end of 2017, more than 935,000 active customers were each spending an average $620 per shop.
Farfetch has been pushing expansion hard, securing partnerships with major brands and in new territories. Partnerships with JD.com in China and The Chalhoub Group in the Middle East have secured networks for marketing, logistics and payments in important markets. They've innovated with a 90-minute delivery service for Gucci in key cities, signed a deal multi-year innovation partnership with CHANEL to work together to develop a range of digital initiatives to deliver a superior consumer experience both online and offline and launched their own AR platform of the future. Jose's vision of a personalized, global, luxury fashion experience just keeps getting more real.
Farfetch wasn't an obvious investment for us and there was a lot riding on José himself. He won us over with his vision, but has also succeeded because he surrounds himself with brilliant people who are experts at what they do. Farfetch has a talented team and it's been a pleasure seeing them thrive, folks like COO Andrew Robb, CCO Giorgio Belloli, CTO Cipriano Sousa, CMO John Veichmanis, Chief People Officer Sian Keane and many, many others! They have worked incredibly hard to take this company public, and we couldn't be more proud to be part of their success. 
Published — Sept. 21, 2018