Honesty is the Key When You Want to Harness the Lightning in a Bottle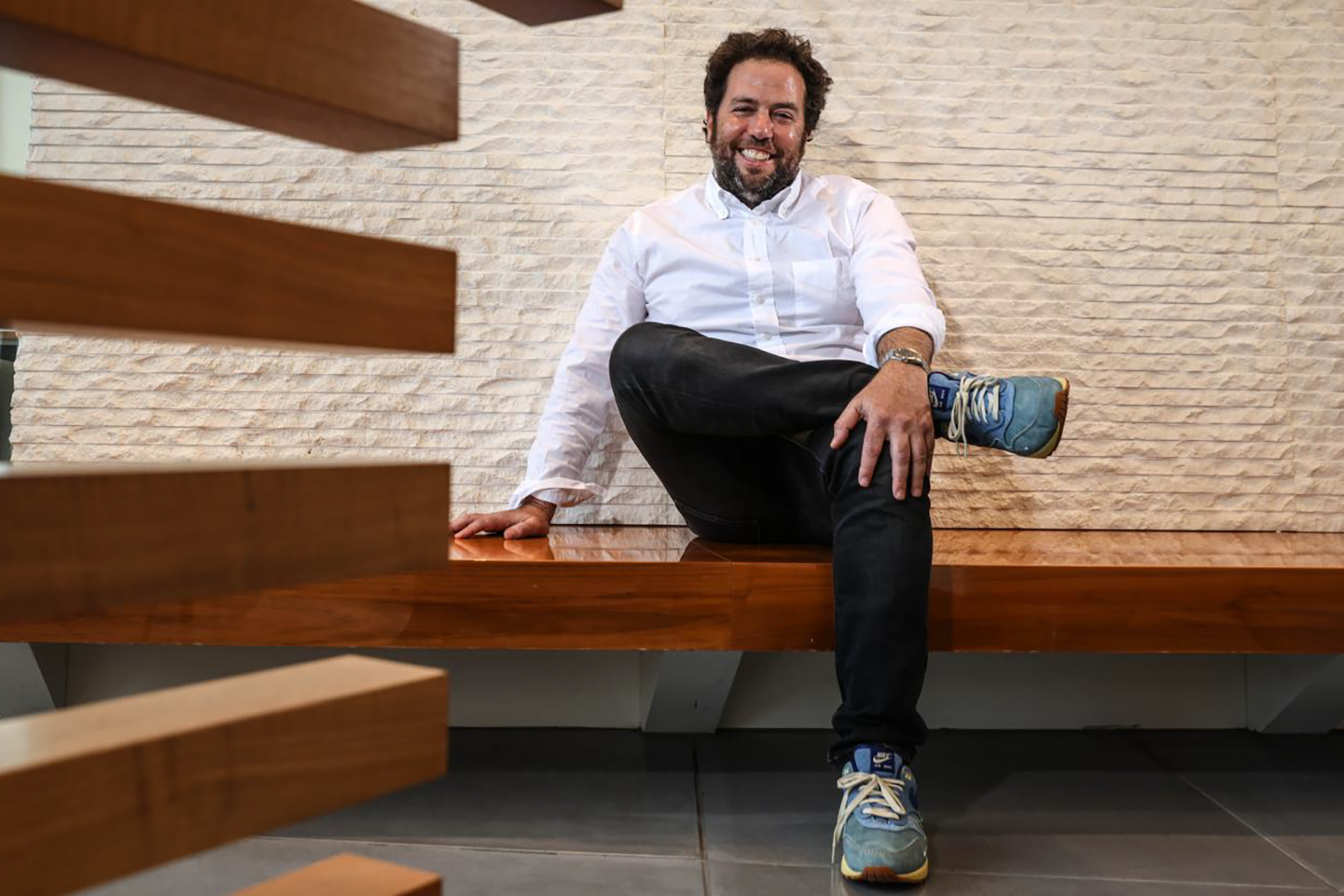 Written by Katie Prescott, Technology Business Editor at The Times
Ask Danny Rimer to pick his favourite investments and he says it's like asking him to choose between his children, so he won't be drawn. That is, perhaps, not a surprise, given that Dropbox, Farfetch, Etsy, Skype and Net-a-Porter are among the technology companies he has backed in his 20 years at Index Ventures.
"Net-a-Porter's [Dame] Natalie Massenet is an incredible entrepreneur and I would back her any day of the week again." Then there is the "fascinating" evolution of Skype, allowing people to speak to one another around the world without charge, "leveraging the infrastructure and architecture of the internet. Seeing that develop, that there are more Poles living outside Poland than in Poland and that Chicago has a larger base of Poles than Warsaw and that the diaspora could be connected through this free tool and become a global phenomenon was really amazing."
Index Ventures, founded in Geneva in 1996, was built on the notion that there was untapped potential in European technology companies that was being overlooked by investors from Silicon Valley. It has invested in some of Britain's most successful businesses, from Wise and Revolut to Just Eat and Deliveroo. Since its inception, it has raised $12 billion mainly from pension funds, endowments, non-profit organisations and professional investors, but not family offices or sovereign funds. It announced $3 billion of new funds last year.
The LLP manages 15 "closed-ended" funds, and last year Index distributed billions of dollars in returns to its investors.
Rimer is particularly proud of his latest success, the sale a fortnight ago of Figma, a design software specialist, to Adobe for $20 billion, a price ten times the company's 2019 valuation. Index, Figma's biggest backer, came in at a very early stage when Dylan Field, its co-founder, was a 19-year-old university dropout. "We've done a lot of growing up together over the decade. It's about good times and challenging times." The Index share of Figma is understood to be $2.6 billion.
You could be forgiven for thinking from his accent that Rimer, 52, is American, but he is far more European, having grown up in Geneva with a Canadian family. He started Index's British base, now its largest, in 2002 at a time when American investors saw Europe as "a museum, a great place to tour during the summer. When we opened the office in London, we knew something really important was going on, but most people had no idea.
"Europe has always had amazing entrepreneurs. The challenge was to surround them with great operating experience and great executives. Now Europe has so many fantastic executives who are willing to leave more traditional companies and success breeds success. People come out of the Spotifys or Skypes of this world and they're looking for their next opportunity. The market for great talent is much more liquid than it's ever been."
After his childhood in Switzerland, Rimer's interest in technology was piqued as a student at Harvard. Reading about the nascent internet in early editions of Wired magazine inspired him to move to the West Coast.
While he might be adept at picking winners today, his own foray into starting a business, creating digital versions of art in famous galleries, was — by his own admission — a flop. Then again, eventually its assets were picked up by Bill Gates and were turned into Corbis, the stock image library that is now one of the biggest in the world. An early lesson that you can have a good idea but you also need excellent execution and a healthy dose of luck to pull it off.
He was steeped in the early days of the internet in California, beginning the internet equity research division for Hambrecht & Quist, a boutique investment bank that is now part of JP Morgan, and taking businesses including Netscape public. He spent time touring America, trying to convince "bored and uninterested institutional investors why they should buy Amazon at 18 bucks a share" until he decided he was "much more interested in helping young entrepreneurs than trying to be on an evangelical mission of convincing the 'buy' side".
The investment decisions that Index makes are as much about context and contacts as business ideas. Rimer compares venture capitalists to "glorified recruiters" because "we are trying to find the most talented founders and then surround them with the best talent. We're not the best operators, but we know the best operators and we know the personalities of the founders that we're trying to help."
The best founders are "monomaniacal" and devote their lives to the mission of growing their business. "Our job is spotting someone trying to spark lightning in a bottle working out of their garage and we have to figure out whether they're the right people to do this, that they have been placed on this Earth to go after this global ambition." The relationship the fund has with its founders is about support and "cold showers", honest and difficult conversations such as that with Field when Index suggested the Figma founder "pivot from focusing on product to focusing on the commercial side of the business.
"That's the type of work that we do. We said, 'Here are the three best people for you to talk to.' One of them was my partner, Mark Goldberg, who came from Dropbox and did the same type of business model. We said, 'We're going to put you in front of them for you to learn from the best and then we're going to create our own version of the business model.' "
Research underpins Index's investment decisions. It looks at emerging trends and tries to invest in those businesses that will benefit from societal changes. "We established that 75 per cent of Gen Z and Gen Y folks want to be creators rather than employees." That led to the investment in Etsy, the ecommerce company. Another that has led to investments in fashion is the belief that the sector "might replace music as a social lubricant". Now that people can "snack on songs", buying an album you share with friends has lost its magic and is "not going to be the same sort of means of connecting with someone that it used to be".
Index makes 30 investments per fund and while "very few of those are truly transformational for the fund and many don't survive", others turn into something completely different, "like Slack or Discord, completely different businesses from what they were originally doing. It's out of that resourcefulness, out of that down-to-the-wire 'what do we do now?' moment that they build something really important with the right people around the table."
As for today's economic climate, Rimer sees it as ideal for nurturing strong companies and "super-healthy for them to go through" because "cheap money" makes entrepreneurs complacent. "If you think of what you're trying to do, which is join a founder who has been placed on this Earth to start this company, irrespective of whether they get finance, and you're trying to surround them with operators who are in it for the long run, it means it's less about being seduced and more about having strong convictions. One of the challenges we had over the last five years was companies could raise so much money that it was really difficult to get them to focus." He cites businesses born in recessions, such as Uber, as proof.
When it comes to his investors, getting the best returns comes from "investing the same amount in any type of market and just being super-disciplined about that". American funds look to Britain for exciting opportunities and the fall in the pound makes it more attractive "whether it's to buy those companies or invest in them, partner with them, all of those are on the table".
Despite critics of the UK technology scene who bemoan the country's ability to grow technology businesses, it is, Rimer believes, a "phenomenal place to build a business" and, if you follow his theory with the present downturn, perhaps now is the right time to do it.
Q&A
Who, or what, is your mentor? I was lucky enough to marry her. Need I remind you that spotting talent is key to my job?
Does money motivate you? It's such a privilege to work with entrepreneurs and help them to build their dream. What excites me about money is the future it can enable.
What was the most important event in your working life? Picking up the first issue of Wired magazine and moving to the West Coast as the internet was just getting started.
Which person do you most admire? James Love Barksdale, former chief executive of Netscape, taught me the importance of focus as he always said: "Danny, the main thing is to keep the main thing the main thing."
What is your favourite television programme? A mini-series called Small Axe.
What does leadership mean to you? Being self-aware and empowering our teams to be Compassionate Asskickers.
How do you relax? I take my wife's yoga class at her studio, Love Supreme Projects. I also listen to jazz, read books about art and visit museums.
CV
Born: September 28, 1970
Education: International School of Geneva, Harvard University (history and literature)
Career: 1994-2000: equity analyst, Hambrecht & Quist; 2000-02: partner, Barksdale Group; 2002-present: partner, Index Ventures (including founding offices in London and San Francisco); Other: board including Figma, Patreon, Discord, Goat Group, Grailed & Heroine; Multiverse, Motorway, Common Room, Linktree, Tate; 2017: appointed OBE
Personal: Wife, two children, lives in Notting Hill, West London