Motorway: Driving new business models in the fast lane
In 1946 British naval officer David Wickins, set to be deployed overseas with immediate effect, wanted to sell his car quickly. He placed an advert in the local newspaper, offering to sell his Riley Lynx tourer for £200 to the first person who turned up at his mother's house. That evening, he arrived home to a crowd of eager bidders, and sold it for £420; more than double his asking price.
Wickins became founder of the BCA, the largest car auction house in the UK, and this transaction was the country's first official car auction.
Seventy five years later, the industry has proliferated. Every year, ~10 million cars are sold in the UK, ~8 million of which are second-hand, comprising a £100bn+ category. Now, auctions come in all shapes and sizes, attracting ~12,000 dealers every week.
However, despite this scale, ~95% of the market remains offline.
This means dealers have to travel far and wide to buy cars; gathering at wholesale multi-day auctions to negotiate it out on the forecourt. Like any business function, networking is also part of the course, adding more time, money and effort to attending.
Unfortunately, this uplift does not correlate with results. The majority of auction stock tends to be wholesale (owned and sold by other dealers and manufacturers) which in turn, comes with the risk of being poor quality and hard to resell as a result.
Indeed, if buying cars is painful for dealers, then selling cars isn't any better of an experience for consumers. Ultimately, first-one-to-get-to-my-mum's-house strategy worked wonders for Wickins and his Riley Lynx, but it's clear this mechanism is no longer fit for purpose.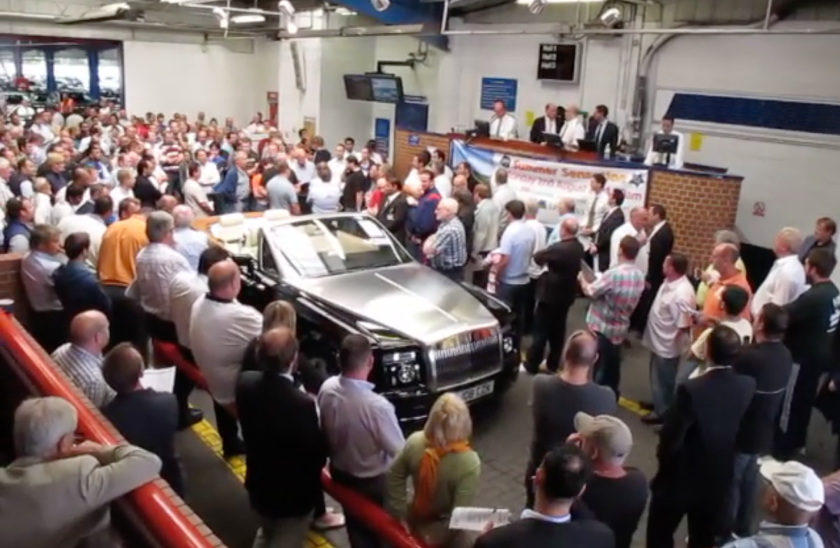 In response, Motorway is fundamentally changing the experience for dealers by giving them the digital infrastructure to procure stock virtually.
Every morning at 10am, 3000 dealers log-in to access the latest daily-drop of used-cars online. Instead of travelling to the other side of the country, they're in their home or office. Instead of wading through brochures or pacing warehouse forecourts, they filter, shortlist and bid on cars, using the standardised profiles provided on their personalised dashboard.
Just like we've seen with software for other virtual events, tasks which would have taken days now take hours or minutes; completely transforming productivity, workflows and lifestyles.
However, bringing a process online may transform the experience but it doesn't necessarily transform the industry. This is why the value of Motorway doesn't stop there.
Instead of simply bringing B2B transactions online, and working as a wholesale software solution, Motorway procures cars directly from consumers to dealers, enabling a C2B business model. While this may appear as just an acronym change, it's in fact highly disruptive for both sides of the market.
Why it's better for dealers
For dealers, privately-owned stock is the holy grail. It's unique, it's differentiated and it's likely to be better quality. As a result, it accrues a significantly higher price on resale than the wholesale inventory typically found at offline auctions. Until Motorway launched, accessing this stock was hard; you could wait for customers to turn up on your forecourt, you could pore over inconsistent ads on classified sites or you could rely on instant buyers to push you the lowest value inventory. Using the Motorway platform, dealers get access to the best stock via a better experience.
Why it's better for consumers
For consumers, selling your car has always involved trading off either price or experience. If you want the best price, you need to spend time and money building ads on a classified site before co-ordinating dealer calls and test drives until you "think" you've reached it. If you want the best experience, your quickest option is to go with an Instant Car Buyer, leaving money on the table to make it as painfree as possible. Using the Motorway platform, consumers get the best price via a quicker, more frictionless, experience.
When a value proposition works for both sides of the marketplace, proof should be in the pudding. With Motorway we're happy to see the recipe is working.
Cofounders Tom, Harry & Alex, along with their 160-strong team, have quickly and quietly built a platform behemoth; selling £2.5m worth of cars daily and 4k units monthly, with a new sale being agreed on Motorway every ten minutes.
As a result, we could not be more gassed to be leading their £48m Series B fundraise, and to be partnering with them as they accelerate full speed ahead.
Published — June 14, 2021