Slack: Changing the Way We Work
Index Ventures partners Sarah Cannon and Mike Volpi talk about what makes Slack special. Sarah was a board observer at Slack, and Mike led Index's initial investment in the company in 2015.
Slack has had an enviable journey, from the darling of early adopters to a leader in enterprise collaboration tools. CEO and co-founder Stewart Butterfield has created a culturally rich and thoughtful business, and one whose product has empowered knowledge workers everywhere who demand a more human, collaborative way of working. 
When did you first discover Slack?
Mike: About five years ago, we'd noticed that a lot of our work conversation had moved to text, and while it had not replaced email entirely, a majority had migrated over to iMessage. I remember talking to my partner Danny Rimer about Slack, whose founder Stewart Butterfield had pivoted the product from a game to a business collaboration platform. We set up an instance of Slack for Index Ventures that day and immediately understood its appeal. Danny already knew Stewart, so we set up a meeting at the old Slack offices in San Francisco. Twenty minutes in we paused the meeting, stepped outside and both agreed that this was a must-do investment for us. Then it was just a matter of convincing Stewart that we were the ideal partner for him. I flew to Vancouver to meet him, and over sushi at a Japanese izakaya, we shook hands to join their latest funding round.
We later met the broader Slack team to discuss specifics. Their pitch deck had this incredibly impressive chart showing daily and monthly active users—I distinctly remember it as the moment when I truly understood the power of Slack. Any business tool that is used every day is extraordinarily valuable—most of us only use two applications daily, our calendar and our email—and we knew then that Slack would be a very important company.
How was Slack able to gain such traction so quickly? What was missing in the enterprise space?
Sarah: Slack mapped to the way people wanted to work, not to the way they were working. For a long time, people's behavior had been confined by existing, hard to use enterprise tools. While not the first player in the space, Slack's product gained quick traction, due to its informal, transparent nature. It reflected, in real-time, people's desire for how they wanted to work. Enterprise tools used to make work communication a chore, but Slack turned it into a great experience — the product and the brand had a real personality that people connected with. Slack sparked a lot of customer love early on, driven by the delight of using the product and the efficiency it enabled both personally and organizationally.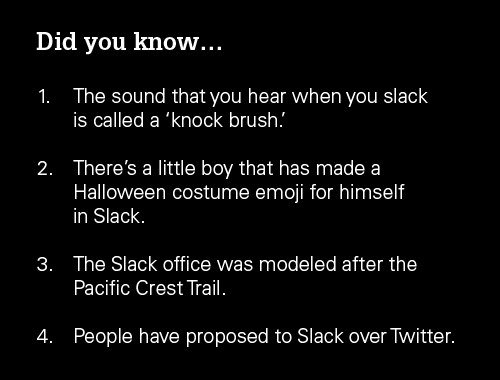 Mike: If you think of email as the digital analog for mail—you write a letter, put it in an envelope and then drop it in a mailbox—then chat is the digital analog for conversation. Fundamentally, Slack has created the enterprise context around digital conversations. Through channels, attachments, search, ability to archive, etc., Slack turns chat into a product that enterprises large and small can use as a powerful tool for productivity. It allows employees to work the same way they experience it in real life.
Sarah: It's very rare that an enterprise tool changes company behavior, and Slack has done just that. There are incremental new behaviors that exist because of Slack, and old behaviors that have disappeared. Slack is not just a product; it's a platform.
Do you think Slack is a productivity suck?
Sarah: It's human behavior that's unproductive, not the platform. Slack has an opportunity to learn from what's happened with the Facebook newsfeed and establish some controls. They can make it part of their product delight that they help people design their own work environment and decide how much they want to engage with Slack - that's a product opportunity.
Slack is a very upbeat brand, and has created a very diverse team. How much of that company culture comes from Stewart?
Sarah: Stewart is not only an exceptional tech founder, he is also a philosopher. This mindset has profoundly impacted the design of the Slack product and how users experience the platform. Stewart once explained to me that one of his motivations in designing Slack was to make organizations more transparent. Most people working in a large, modern organization have no insight into decisions unless they're in a senior role. But through Slack you're not only engaging with people, you're seeing the process of decision making, and that is incredibly transformative.
Mike: Laszlo Bock, the co-founder of the HR startup Humu and a luminary leader in people operations, argues that what matters most to employees are transparency, voice, and engagement—these are the three things that drive happiness and productivity at work. Stewart has instinctively built Slack on those principles. Given Slack's transparency, employees can join and participate in any channel or conversation. Giving every employee a voice has disrupted traditional hierarchies: everyone's opinions are visible and carry as much weight as anyone else's, and geography and titles don't matter. Being able to engage in wide ranging conversations across the whole business is very empowering for employees.  
I know many founders who are knowledgeable and passionate in their own way. Stewart is not only smart, but also has an incredible range of knowledge. He is just as eloquent arguing the principles of democracy as he is describing how a pixel should be moved in the Slack UI. His command of these wide-ranging topics is what has allowed him to lead a company that isn't just about building a productivity tool, but is redefining a new generation of work.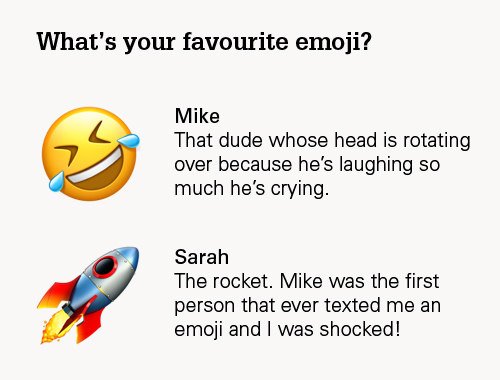 Sarah: Slack has always been an innovator and a first mover, so it's no surprise that its approach to becoming a public company is equally innovative and disruptive. Slack is only the second company ever, after Spotify, to pursue a direct listing. It's an approach that means the company won't issue new shares to raise funds for itself. Rather, its stockholders will be allowed to begin selling existing shares right away. The process leading up to the direct listing reflects Stewart's deep belief in democratizing access to information. During this process, Slack has shared the company's business performance data with a much broader audience. Traditionally, that information was limited to a small subset of Wall Street investors. Slack has made all of its pre-listing materials and forecasts publicly available, bringing transparency to a previously opaque process.
How does Index see the future of work?
Sarah: The way people work is fundamentally changing. It used to be that the company would dictate the tools that employees could use; today, knowledge workers around the world are choosing best in class products themselves. Increasingly, the workforce demands delightful, easy to use tools that feel like consumer apps. This demand has created an opportunity for a new generation of productivity tools like Zoom, Pitch, Airtable, Notion and more.
Mike: Well, you know it's a special company when their name becomes a verb! How many people say 'Slack me' nowadays? You google something, tweet someone, and now you can slack someone too.
Published — June 20, 2019