Why Europe is your first and most important international stop on the way to an IPO

At Index Ventures we back entrepreneurs who dream big and want to turn bold ideas into global businesses. And one of the most important steps in the journey of US tech companies is setting up their presence in Europe. 
Take nearly any successful North American tech company and you'll find that on average at least 30 percent of its revenue comes from international markets, usually led by Europe. Reaching this threshold prior to an IPO is a signal to investors that your business has traction outside of the U.S. and is well-positioned to continue to grow globally.
When it's time to expand internationally, Europe remains the first and best choice for most companies.
For most companies, the decision to expand internationally happens around a Series B financing. By this time a company has built some sales traction, has a proven go-to-market strategy, and a strong core management team. The B round also typically provides the financial firepower needed to launch outside of the U.S. At this point, you should also see regional users adoption, inbound sales leads, and customer pull that can both help you decide whether you have sufficient traction to go to Europe and also which countries to start in.
When it's time to expand internationally, Europe remains the first and best choice for most companies. The maturity of Europe's economies, the similarity of its consumers and businesses to the U.S., the stability of its legal systems, and its respect for intellectual property rights all combine to make it the top option.
Over the years, here at Index Ventures, we've helped 31 portfolio companies, including Dropbox, Etsy and Slack expand into Europe, and as a single team based on both continents, we've developed some important insights about what works what doesn't.
When you're ready to embark on your journey across the big ocean, here are three questions we recommend companies to explore:
Where should we set up headquarters?
Who should we hire first?
How long will it take?
Setting up your European headquarters
When it comes to setting up the headquarters in Europe, the most common answer is London. London was the choice of 17 of the 31 Index-backed companies that we surveyed for the 'Expanding into Europe' handbook we created for US entrepreneurs. The U.K.'s capital city is not only Europe's wealthiest and most cosmopolitan, but its high concentration of financial companies and other big corporations with ample IT budgets make it the natural choice for any company in the fintech or enterprise space. London also boasts the deepest pool of tech talent in all of Europe, and because of the shared language, it is the most attractive relocation destination for talent from the U.S.
Its downside: High costs, salaries, office space, and the cost of living, as well as more recently Brexit-induced jitters, all combine to weigh heavily on London.
In spite of all of that, we remain bullish on London and believe its fundamental strengths will persist, and outlast any current uncertainties.  
Dublin came in as the second-most preferred city for European headquarters. Four Index companies (Dropbox, Zendesk, Slack and Squarespace) chose Dublin, which has for 20 years been the choice of large U.S. tech companies like Microsoft, Oracle and Salesforce with strong customer support and inside sales needs. It also has the lowest corporate taxes in Europe (12 percent). So if customer support is your priority, which often it is, start with Dublin.
Elastic, Optimizely, and Sonos, were among the Index companies who chose Amsterdam, which sits between London and Dublin as an attractive location for inside sales, enterprise sales and consumer-facing businesses. Amsterdam probably stands to benefit in the coming years from London's cost-inflation, and Brexit-borne anxieties as a location of choice for U.S. tech companies.
Berlin and Paris are successful startup hubs in their own right, and U.S. companies typically set up their France- and Germany-focused teams there. However, they are rarely chosen as a European regional HQ.
We ranked London, Dublin and Amsterdam for a series of factors in the table below.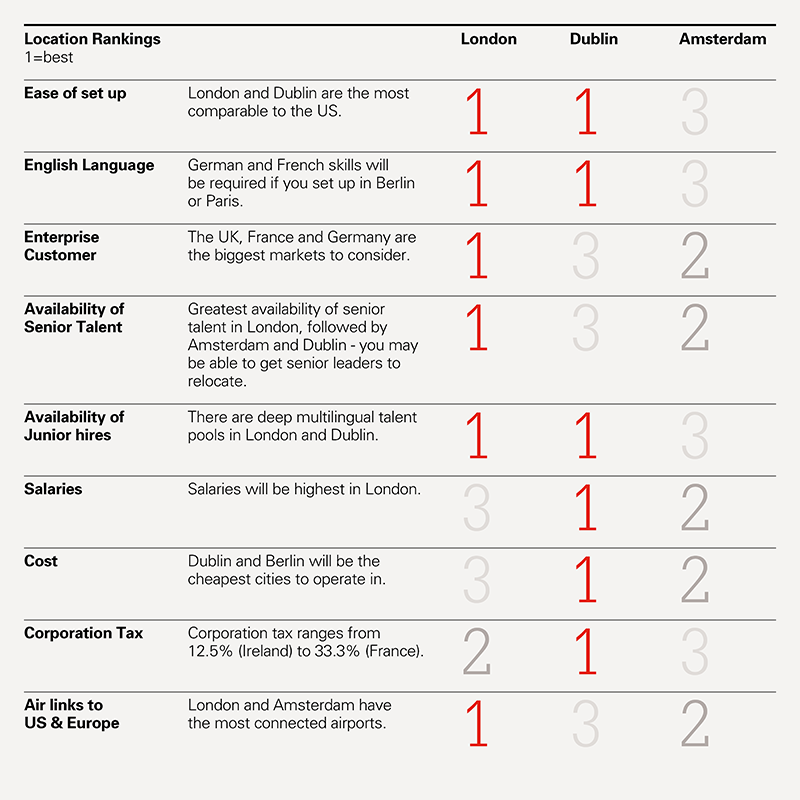 For ambitious companies with strong sales traction in the U.S., we suggest hiring an experienced senior leader in Europe right away.
Making your first hire
Who you choose to lead your European team will be crucial to the success or failure of your business.They will represent your company, attract the best talent, land your initial clients, and execute your go-to-market plan. It's essential to invest sufficient time in finding the right person.
For ambitious companies with strong sales traction in the U.S., we suggest hiring an experienced senior leader in Europe right away. Ideally this person will have either built a company in Europe or run a business for a U.S. company previously.
It turns out there's a pool of about 1,000 seasoned software executives who fit the profile of a typical VP Europe.
About half of them are based in London
About half have built careers based on repeatedly launching U.S. companies in Europe
They understand the region's nuances and pitfalls
They have a network of executive relationships and leads
They'll also have a list of target hires they've worked with before
Of the 31 Index Family companies who have expanded from the U.S. to Europe:
The first hire had an average of 13 years experience
Ten companies hired MD/GM or CM roles from the outset
Candidates for these MD/GM and CM positions averaged 18 years of work experience
Six companies hired senior sales roles
The remaining companies hired for Customer Success, more junior Sales roles, or marketing
When selecting your first hire, it's important not to compromise on factors like cultural fit and a sense of entrepreneurialism. However you may have to settle for someone who lacks sector-specific experience. You may be tempted to hire candidates from Google, Salesforce, Oracle or IBM, but it's important they have startup DNA. They must be hunters but must also understand the strategic dimensions of marketing, media relations, partnerships, regulation and localization.
If your investors happen to have a strong network in Europe, reach out to them for help. Also ask your board members, and other advisors for suggestions. Only after these avenues fail should you engage a headhunter with proven experience to fill the role.
How long will it take?
As any French chef will tell you, creating a truly good meal takes time, creativity, and the best local ingredients. The observation applies equally to businesses as it does to food. After launching operations in Europe, assume it will take three to five years to build a solid footprint before you approach that magic number of 30 percent international revenue. Keep in mind that Europe is a patchwork of different countries different languages, media and regulatory regimes. You'll have to think tactically in at least three different core markets - the U.K., France and Germany as you grow your team, brand, customers and localize for language, laws and payments.
So if you have reached this part of your journey, it's a really exciting time. There are also some well-worn paths to success that many of the world's most iconic companies have walked before you and now it's your turn.
Published — Sept. 18, 2019