Vertical Software Wins in Bull and Bear Markets
With many recent forecasts indicating a likely recession ahead, software entrepreneurs and investors alike are preparing for impact to their businesses. We believe that in uncertain times, technology buyers will consolidate IT spend with trusted mission-critical solutions that have a clearly defined ROI. Because of this, vertical software has a compelling reason to be resilient even in a slowdown.
For decades, Vertical Software often was considered too niche for entrepreneurs and investors who wanted to achieve massive venture-style outcomes. Many wondered how large a business could become building software only for one type of customer. As a result, some of the world's largest industries remained in the software stone age despite incredible technological advancements over the past several decades. Sectors like dining, education, energy, healthcare, industrials, home services, parts of financial services, real estate, and others have historically had to work sometimes literally with pen and paper or in outdated, legacy technology systems. However, in recent years, several key trends have opened up the potential for greater adoption of next generation software within these and other end markets.
First, cloud software has made it possible for owners and executives to run their businesses from the palm of their hands. Second, every business has had to adapt to the "Amazon effect" where customers have come to expect an Amazon-like ease of use for all facets of their life, whether booking a doctor appointment, fixing a car, or signing a child in for school. Lastly, the ability to integrate with financial infrastructure platforms like Stripe has enabled software vendors to generate more diverse revenue streams like payments and become even more essential for their customers.
These factors have created opportunity for an emerging category of vertical SaaS (vSaaS) leaders. Cloud-based and mobile-first, vertical SaaS is built to serve unique workflows of particular industries. From the restaurant managing orders and inventory, to the construction company building a large new office building, businesses of all shapes and sizes are looking to partner with technology vendors who deeply understand their core day-to-day workflows and provide highly tailored software solutions built for them, by people like them.
Because of these powerful long-term secular trends, we believe vSaaS is well-positioned to win in both bull and bear markets.
Three Reasons We're Bullish on vSaaS
1. vSaaS is mission critical
In uncertain economic environments, software spend shifts to the must-haves, away from the nice-to-haves. vSaaS often serves as the operating system for customers, becoming the single source of truth for critical activities like CRM, payments, scheduling, and reporting. Brightwheel, for example, provides software to daycare centers to automate billing and payments, send real-time messages to teachers and families, and streamlines classroom check-ins, admissions, reports and lesson planning. Seso provides some of the largest agricultural growers in the US the ability to hire and schedule seasonal workers during harvest season. Companies like these are providing mission critical, must-have solutions for important industries like child care and agriculture.
2. vSaaS helps customers operate more efficiently
Ultimately customers adopt software because they want to run their businesses better. Because vertical solutions are built with specific industry needs in mind, they often effectively drive value by helping customers either increase revenues, decrease costs, or both. Residential HVAC and plumbing shops who use ServiceTitan, for example, typically see 25% YoY revenue growth in the year after they implement the software, versus an industry average growth rate in line with GDP growth. Benchling helps life sciences customers accelerate their workflow cycle time by 38%. vSaaS has a compelling value proposition across diverse industries, from residential home services to biotech research.
3. vSaaS vendors can continue to sell new products into an existing customer base
The best vSaaS companies start by solving one specific pain-point and then expand once they gain trust with customers, who will then begin to ask for more features and capabilities over time. For example, Shopify started by offering retailers a website with payments and a shopping cart integration. Today Shopify is a full commerce platform with an app store, lending, installment payments, offline POS, email marketing services, a merchant card, and fulfillment services. Toast originally offered restaurants a better, cloud-based POS system but today has 15 unique products including digital ordering and delivery, payroll and team management, lending, inventory management, marketing, gift cards, and reporting. 60% of Toast customers currently use more than 4 of their products. From a starting position of one fantastic wedge into their customer base, vSaaS vendors have a continuous upsell and cross-sell opportunity with existing customers. During difficult economic times it can be more cost effective to bundle software purchasing with your trusted, go-to vendor who can provide a lower price than a standalone point solution can.
vSaaS in a Downturn
While we've highlighted three reasons, among many, to be bullish on vSaaS, we also acknowledge that not all vSaaS companies will thrive during a downturn.
End customer health is critical during periods of macroeconomic uncertainty. vSaaS companies which serve more discretionary categories are likely to feel a crunch within existing customers. We also expect revenue streams from embedded FinTech, like payments and lending, to face difficult comparisons in 2022 as they lap robust spending in the back half of 2020 through 2021.
Lastly, vSaaS often requires some degree of implementation as customers change their behaviors from analog to digital. For vendors that have a more complex implementation motion but offer slower time to value, it's likely that their potential customers will push out purchases to a later date and therefore reduce net new ARR growth.
Despite these risks we continue to be enthusiastic about the broader vSaaS ecosystem. As we recently observed, great businesses have been built and flourished through some of the most difficult times. We expect that strong vSaaS companies will emerge stronger and continue to lead with innovation in the years to come.
30 Private vSaaS Companies We're Watching
We're tracking these 30 vSaaS companies closely, which represent a combination of portfolio companies as well as other private companies which are leading the way forward for vSaaS, in both good times and bad.
Which vSaaS companies are you following? We'd love to hear from you @IndexVentures.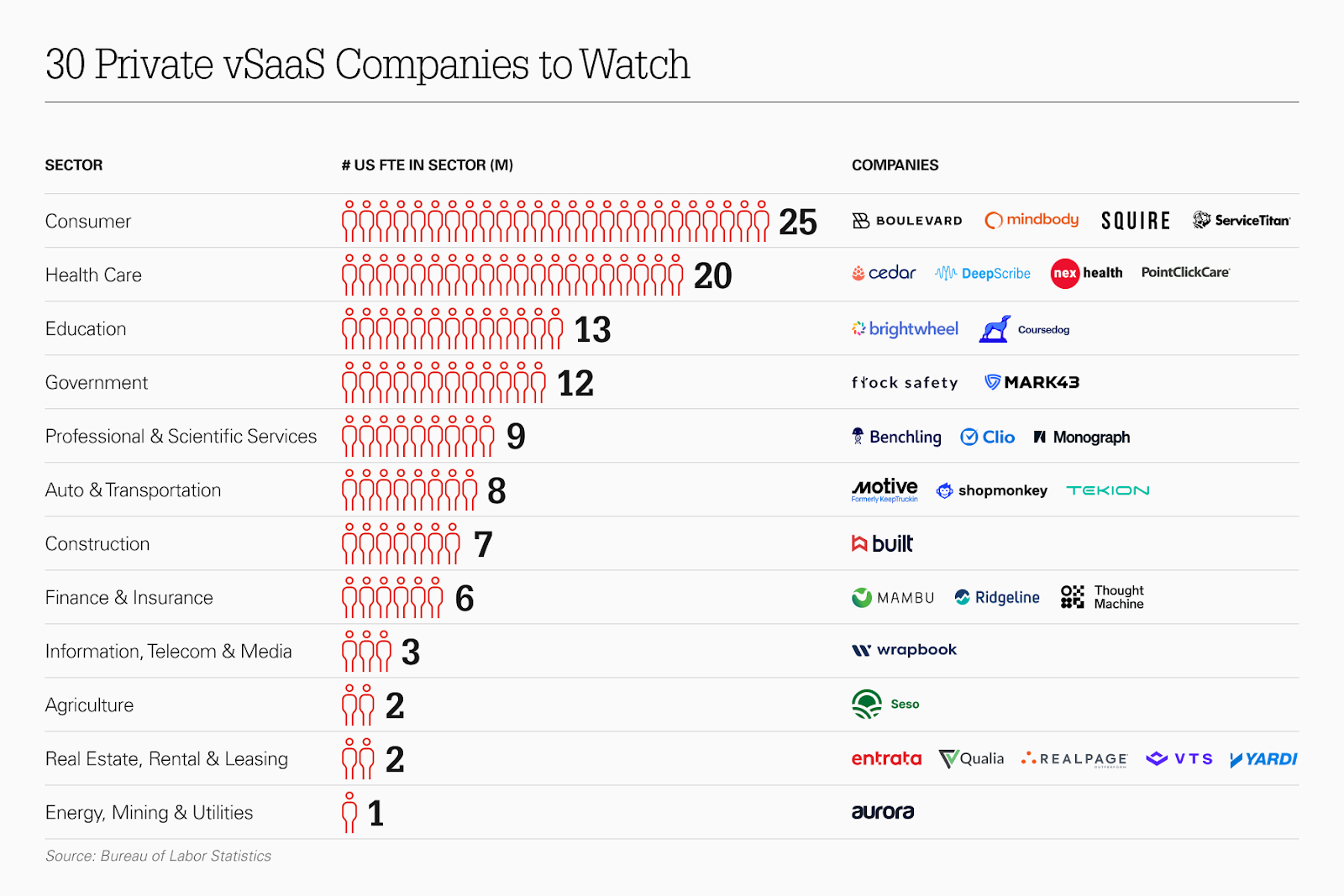 Published — July 22, 2022